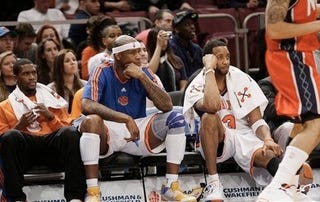 Because no one reads the newspaper, and SportsCenter's anchors are too perky for this early in the morning, Deadspin combs the best of the broadsheets and the blogosphere to bring you everything you need to know to start your day.
•In their loss to New Jersey, the Knicks went 0-18 from beyond the arc a new benchmark for the league. Don't ever say Nate Robinson didn't leave his imprint on this team.
•Let's check out a higher quality game: Lousiville upset No.1 Syracuse, so Kansas ends the regular season atop the polls. I believe I predicted this one, but only did so in pursuit of a joke, so I'm not sure that counts.