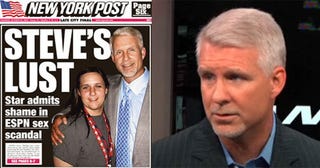 AOL Fanhouse hired Steve Philips as their new baseball analyst, just 161 days after the world learned he had an affair with an ESPN underling. Is that some kind of record for morphing from sexual disgrace to professional respectability?
I mean, people ask Eliot Spitzer for his opinion all the time, but he is still a long way from being allowed to govern anything. Tiger Woods doesn't have to pass a job interview to tee up at The Masters. Yet, Steve Phillips is being hired to do the exact same job he was doing less than six months ago—albeit from a less prominent perch—despite being shamed out of his position for inappropriate conduct with a co-worker. It was also announced yesterday that he will be a featured regular on the Mike Francesa Show on WFAN, giving him two new baseball media jobs in 24 hours. Even for second-chance America, that's quick turnaround.
It's always a good first day on the job when it involves a lengthy Q&A about your johnson control. But let's remember when, shall we?
October 21: The New York Post breaks the story of Phillips' affair with Brooke Hundley, a 22-year-old production assistant on his show. ESPN grants him a "leave of absence" to deal with his personal issues.