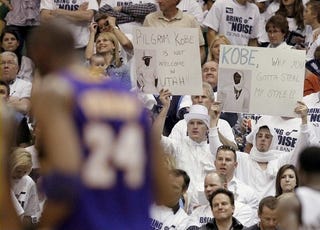 Because no one reads the newspaper, and SportsCenter's anchors are too perky for this early in the morning, Deadspin combs the best of the broadsheets and the blogosphere to bring you everything you need to know to start your day.
• Deron Williams misses the shot he's spent his whole career making, and the Lakers slip by the Jazz in a great finish. Meanwhile, Utah discovers a sense of irony:
Yes, that's right: Kobe looked so ridiculous in that allegedly "high fashion" photo shoot that he is now being mocked by the sort of people who wear this stuff.
• The Sharks finish off the Red Wings, and the Penguins head to Montreal with a 3-2 series lead.
• Piss-gulper Lyoto Machida gets his next drink beat out of him by Shogun Rua, your new light heavyweight champion.