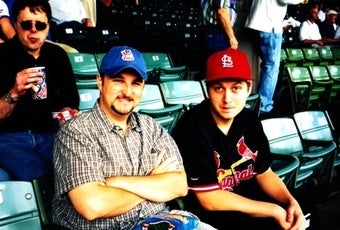 If you've read Are We Winning?, you know my friend Mike, a Cubs fan who goes to the game with my father and me and worries about his young son becoming a Cubs fan. Well, he still exists.
Friday night, I have a a reading at The Book Cellar in Chicago. If you're in the Chi-town area, you should come:
Book Cellar
4736 N. Lincoln Ave.
Chicago, IL 60625
Friday, May 28, 2010
7 p.m.
We'll all be drinking afterwards too, so do come. This is all based around the Cardinals-Cubs series at Wrigley — the book, which you should buy, revolves around one Cards-Cubs game there in September 2008 — that begins on Friday. It's the first Cubs-Cardinals series of the season, and neither team is blowing the doors off the place so far. But the Cubs look in serious disarray. I talked to Mike about how the Cubs are doing, about Eddie Vedder's shifting fandom, about that bachelor party Daulerio put together and about his role in the book, which you should buy.