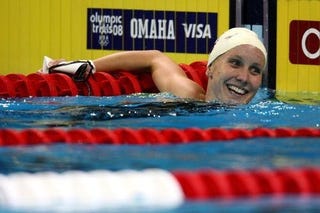 When athletes blame failed drug tests on protein supplements, I usually call bullshit. But in this story, U.S. swimmer Jessica Hardy missed the '08 Olympics because of a nutritional supplement, and now, she may also miss the London Games. This is bullshit!
Hardy, a 23-year-old from Long Beach, Calif., is the current world-record holder in the 100-meter breaststroke. She could qualify for four events in the 2012 U.S. Olympic Trials. But the International Olympic Committee (IOC) is sticking to a rule that, although certainly rooted in honorable intentions, might require a little flexibility in this special case and others like it.
Juliet Macur wrote a detailed article about Hardy's situation in today's New York Times. The new IOC rule — it was passed and put into effect just before the Beijing Games — mandates that any athlete who has served a "doping suspension of six months or longer" cannot compete in the next Olympics. No matter what. Hardy already served a year-long suspension for her failed drug test, which detected the drug clenbuterol, later found in her store-bought nutritional supplement. This is like getting grounded after a time-out for something your sibling did.
It's senseless, and sadly enough, bad communication between the IOC and the U.S. Olympic Committee may be to blame. The current ruling for Hardy and U.S. runner LaShawn Merritt, who faces a similar dead-end, is unclear because the IOC refuses to consider athletes' appeals until they have made their countries' national teams. Hardy would be a shoo-in, but because she is technically ineligible for the next Olympics by IOC standards, she may not be allowed to participate in the trials. Or, she could compete in trials, win a team spot, and then the IOC could deny her appeal anyway. It almost makes you nostalgic for the days when the fascists ran the joint. Macur explains the roadblock: