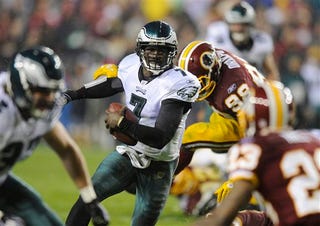 That was just a spanking, wasn't it? And if you don't think Andy Reid and Marty Mornhinweg purposefully drew up a game plan that could have been codenamed "Our QB Is Better," then you must not have been paying attention.
Vick handed off just 30 times, compared with 28 pass attempts and 8 plays in which he himself ran for it. That's even more lopsided in a game that was 35-0 9 seconds into the second quarter, and the Eagles essentially pounded the ball to run out the clock (15 of those handoffs happened in the fourth quarter).
Eagles/Redskins is always big because it's a divisional matchup. Eagles/Redskins is extra big these days because of the history between McNabb and Philadelphia. And Eagles/Redskins was extra monster super Four Loko huge yesterday, just hours after McNabb signed a huge extension that he wanted, but would never receive from the Eagles.