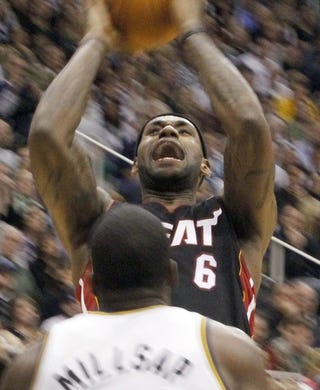 FreeDarko's Bethlehem Shoals, a regular contributor to NBA FanHouse and co-author of The Undisputed Guide to Pro Basketball History (visit the FreeDarko store, too!), is keeping a game-by-game diary of the Heat's season — the one you're pretending not to care about.
Result: Heat 111, Jazz 98
Record: 15-8
I have come to the heartbreaking conclusion that the Miami Heat are, in fact, the worst thing to happen to the NBA since the 2005 Finals. Just not in the way you want them to be. The Heat beat the Jazz, who, while no longer the league's hottest team (that's the Mavs), were a quality opponent that could test our band of longing mercenaries. If the Dallas game caused the Heat to gather 'round in primal scream therapy, it was the Nov. 9 meltdown against Utah that triggered the slump. Largely incapable of resourcefulness or creativity, the Heat were vulnerable if Paul Millsap decided to start hitting threes and engineer a 30-point comeback, which is more or less what he did.