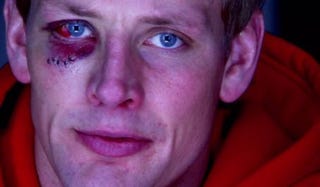 Last night was the second of four HBO 24/7: Penguins/Capitals: The Road to the Winter Classic episodes. Here, a few thoughts more disjointed than Matt Hendricks's face.
I didn't think it would happen, but I'm starting to like Sidney Crosby. Sid The Kid's wooden delivery in this week's painful Price Is Right segment, in which he and a shaggy Alex Ovechkin fought to see who could say their lines with less conviction (and the poor contestant struggled to seem thrilled about a round trip flight from LA to Pittsburgh in the middle of winter) only made me appreciate all the more HBO's ability to draw out some dimension from him.
The footage late in 24/7's second episode of Crosby's pre-game superstitions may have attracted the most attention, including as it did a lingering shot of his shredded and infected-looking lucky jockstrap. But it was a hotel room scene early on that I enjoyed most, in part because I have a strange fascination with both the mundanity and unharnessed energy of professional athletes cooped up in hotel rooms. (The room check scenes during Hard Knocks are always my favorite; I may need to commission a coffee table book.)
Seeing Crosby staying in for the night to watch hockey with family man Pascal Dupuis while the rest of the team is out and about was impressive, if unsurprising; I'd be way more shocked if he was out crawling around under the dinner table spooning condiments onto shoes. But was also a little beautifully heartbreaking to watch the best hockey player in the world describe a recent on-ice fight in the manner of a teen getting laid for his first fumbling time:
It was actually pretty funny. I said, pretty much, "we're fighting," and he said "are you serious?" and I said "yeah, we're going" or "we're gonna go" and he's like "okay." So he said "okay so do you want to take your helmet off or leave it on?" and I said "whatever you want" — you know, I wasn't really, wasn't really that experienced at, you know, the setup.
Aw. Sounds just like my summers at camp.
Can someone please make me a soundtrack? Whoever's in charge of the music on this show should get a promotion. It's been perfect ever since they used the unofficial theme from Slap Shot, "Right Back Where We Started From," in the premiere episode. HBO has a list of songs that will presumably be updated, but until then I'm not too proud to resort to Shazam.
The Caps franchise appears to exist in adorable shambles. I know they've been mired in a slump for pretty much the entirety of the series — and juxtaposed with the methodical-right-down-to-the-player-ratings-system Penguins — but man, if I were a Caps fan I might be a leeetle bit worried?
There's a bumbling weirdness to all the Caps scenes: Bruce Boudreau always seems to be kind of just wandering around and running into his players almost by accident; a scene in Episode 1 had several flu-ridden Caps lurching blindly through the rink's tunnels like Walking Dead zombies; GM George McPhee's face during the interviews had an eerie Michael Scott glow. (Steve Lepore thought so too.)
The scene showing the arrival of new gear to the locker room was a fun one (although in hindsight I wish they had given us a glimpse of archetypes like "Gear Bitch" as described by Justin Bourne: "He's cutting stuffing out of his gloves, he wants extra shirts so can change them between periods, he likes his laces to be 120" waxed and single-stitched, not 108" un-waxed and double-stitched, stupid lazy trainer") but when Jason Chimera received two left hand gloves it almost felt too on the nose for a team so down in the dumps.
NHL referees pound brews in their longjohns after games and don't care about whether you think you were pushed into the crease. Man, HBO really does have access to everything. Given that no one, including the media, gets to talk to the refs, being in their little locker room post-game as they chuckle over disputed penalties and rise for a hearty cheers was like viewing National Geographic footage of some faraway tribe. I'd watch an entire series of just that. BTW, one little quirk from the episode was how often the players and coaches snottily told the officials to "go watch the replay" as if they were ending a dinner party argument with an entitled shrug and a "I mean, go ahead and Google it then."
Ovechkin redefines the meaning of manchild. When the team finally won a game, assistant captain Mike Knuble's rousing, fed-up locker room speech underlined the lack thereof by actual captain Ovechkin. This isn't a bad thing, necessarily; every team has their own captain rubrics, and Ovechkin leads on the ice. But the guy lives at home with his parents, we learn. "Who else would take care of me?" he says. (To be fair, I've read that they only stick around cooking and cleaning for him for a few weeks at a time.) Still, it's a little bit harder to make fun of all the years Crosby spent shacking up with Mario Lemieux after seeing Ovechkin get a kiss on the head and a pat on the rump from his ma. He must save all his partying for Russia.