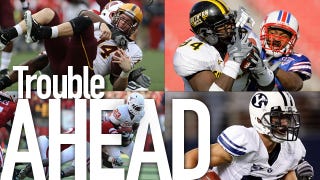 Sun Devils quarterback Steven Threet suffered two concussions last season, and he's officially had his brain knocked against his skull five times in four years of college football. Last week, the Michigan transfer announced that, to avoid any long-term damage to his mental health, he will forgo his final year of eligibility and quit football.
Mercifully, both for Threet and for ASU, the senior is on pace to graduate this spring, which saves the university from having to decide whether to renew his scholarship just so he can watch from the sidelines next season. But concussions can't be planned around graduations. And at some point soon, thanks in large part to the bad incentives created by the NCAA's one-year, renewable scholarship, an athletic department somewhere will have to choose between expediency and simple humanity, and an athlete somewhere else will have to choose between his scholarship and his health.
By our count, Threet is the fourth player from a high-profile Division I football program to decide to leave the game in the past year alone. Last April, Southern Methodist cornerback Derrius Bell announced he was done; he was coping with a sleeping condition that doctors thought was related to his multiple concussions. "It's like I'm sleeping... but I can't snap out of it," Bell told the Dallas Observer at the time. "I can hear me telling myself it's time to wake up. I'm fighting to wake up, but I can't. Then all of the sudden I just pop awake and I'm not sure what happened." And last November, both Texas running back Tre' Newton and BYU safety Steven Thomas turned in their jerseys, as well.