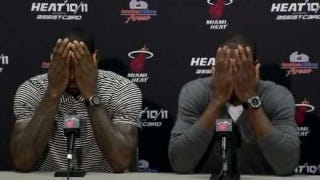 Your morning roundup for March 7, the day the Times informed us that Hollywood stars are "insulated from the consequences of their bad behavior."
• Haters of the Heat can unite over a few new stats following Sunday's 87-86 loss to the Bulls: Miami is 1-for-18 in last-second clutch shooting attempts, and even if his South Beach squad goes 19-0 for the remainder of the season, LeBron James will have won more games (61) with the Cavs last year. So, take that, free will. Awesome photo via Tremendous Upside Potential.
• Elsewhere in the NBA, the Lakers and the Celtics have won seven and five straight games, respectively. Boston scored seven straight points to close out the Bucks, 89-83, in Milwaukee last night. The Lakers took down the Spurs, 99-83, in what the LA Times calls their "most impressive performance this season." Sure, but the Bulls have set the new standard for impressive wins: make them cry in the locker room.