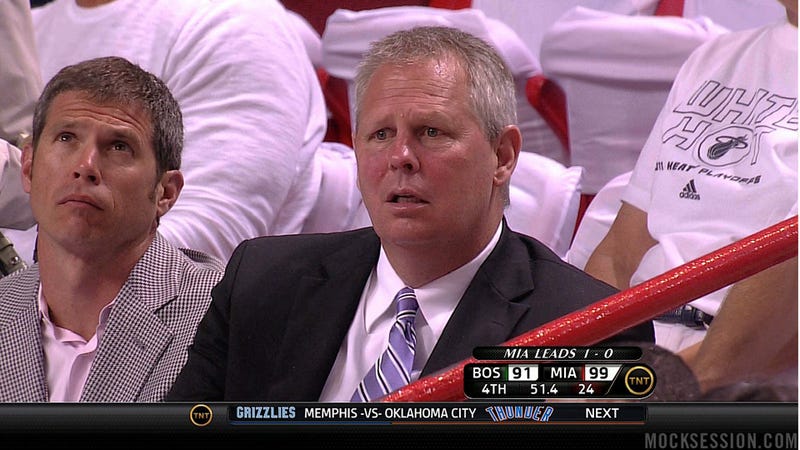 Your morning roundup for May 4, the day we again discovered Xanadu in Jersey.
• Playoffs, playoffs, playoffs: the Lightning beat the Caps, 4-3, to take a 3-0 series lead. Tampa scored the tying and game-winning goal in a span of 15 seconds in the third period. After the game, Alexander Ovechkin guaranteed that the Caps would win the series, which is odd, because during the series to date, Bruce Boudreau's more or less guaranteed that he'll be fired. There is nothing more valiant than claiming after the game that a goal shouldn't have counted.
• Vancouver, 3-2, over Nashville, in overtime, to take a 2-1 series lead. Shea Weber had nearly half an hour of ice time, but hooked Ryan Kesler in overtime to set up a power play, during which—you guessed it—Ryan Kesler scored the deciding goal.
• In leather pumpkin action, Miami knocked the Celtics up and down the floor again, and won game two, 102-91. Apparently Kevin Garnett's legs don't work right anymore. LeBron's, however, worked pretty well, as he had 35 points, seven boards, and this block. Meanwhile, Danny Ainge looks like a broken man.
• And we learned that sometimes a Zach Randolph is just a Zach Randolph, as big ol' Z-Bo shot 2 of 13 while the Thunder got their revenge, and won, 111-102. Eric Maynor and James Harden combined for 36 off the bench. Yesterday, the Wall Street Journal wondered if Randolph had peaked, although one can imagine they weren't talking just about Sunday afternoon. Nonetheless! Series is all tied up.
• Francisco Liriano threw a no-hitter against the White Sox last night. Plenty of good news and bad news there: Liriano was debuting a delivery adjustment and at risk of heading to the minors. (Good!) His ERA is still 6.61. (Bad!) He threw it against Edwin Jackson, who disgraced the no-hitter last year by walking eight. (Good!) Liriano walked six. (Bad!) And this ESPN headline appeared right after the last out (Bad!) before disappearing shortly thereafter (Good!).
• In NBA whippersnapper news, Blake Griffin won Rookie of the Year, surprising no one but especially not anyone who watched all of these dunks. John Wall, for his part, got to attend the White House Correspondents' Dinner and meet Russell Simmons, or something.