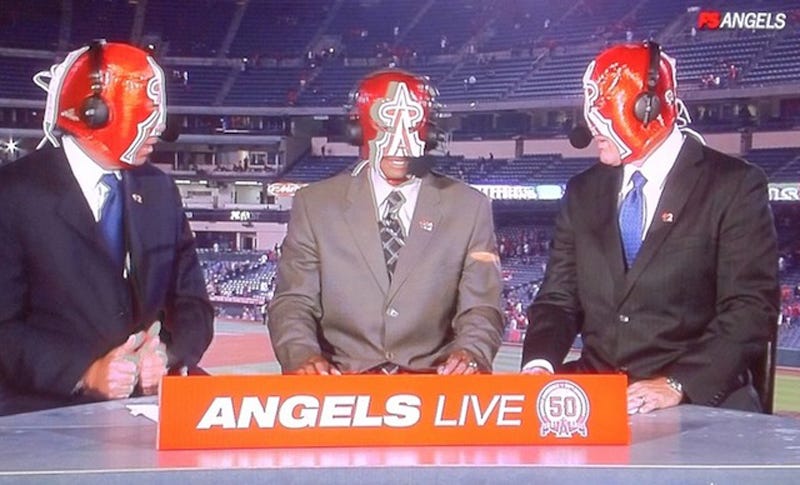 Your morning roundup for May 11, the day the pre-prom body cavity searches were called off.
• In Anaheim last night, Angels fans set a Guinness world record for most people wearing wrestling masks at the same time. For about 10 minutes in the fifth inning against the White Sox on Tuesday, about 20,000 fans — along with the broadcasters — donned the masks and casually took in the ball game. Behold absurdity. [Image via @ProductiveOuts]
• The Bulls went up on the Hawks, 3-2, after last night's 95-83 win in Chicago. Derrick Rose had 33 points and 9 assists, but Carlos Boozer and everyone else is giving credit for the victory to Taj Gibson, who came off the bench to score 11 points in the fourth quarter. No one is giving credit to Carlos Boozer for his spontaneous clothesline attempt on Josh Smith.
• The Red Wings are one step closer to becoming just the fourth team in NHL history to come back from a 3-0 series deficit after last night's 3-1 win over the Sharks in Game 6. They're now tied up at three games apiece. "We believe that we can, and that's the one thing," Detroit's Danny Cleary said after the game. "If you believe you really, really can, and you're just not kidding yourself, then you've got a chance." So the trick lies not in merely believing but in really, really, really believing. Take note, Big Baby.