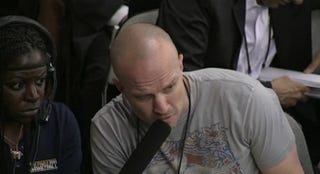 Gregg Doyel, CBSsports.com's cantankerous blowhard columnist had the good misfortune of tweaking LeBron at the post-game press conference Sunday night and, to many people, has become the poster child for the media's irrational hatred of LBJ and stupidty. Doyel, who's definitely done his fair share of grating columnist chest-thumping throughout his career, appears to be enjoying the notoriety. But look closer at how he's taken and embraced the criticism and you'll find a virtue most rare in today's media trough: self-awareness.
Remember the question Doyel irked Lebron with:
"Three games in a row for you, 4th quarter — not much. That's the moment superstars become superstars it seems like you're almost shrinking from it. What's going on?"
And LeBron, bless him, answered the damn thing as pointedly as the question was asked.
From this exchange, Doyel was called many names including a troll; a yellow journalist; a dope and, perhaps the worst insult of all, a Skip Bayless clone.