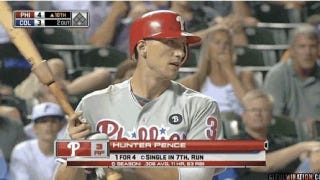 Your morning roundup for Aug. 2, the day shoplifting just didn't pay. Photo via The 700 Level. Got any stories or photos for us? Tip your editors.
What we watched: It's now August, and things appear to be getting back to normal. The Pirates, who have charmed many this summer by reminding us they actually still exist, lost for the ninth time in 12 games last night.
Eight days ago, the Bucs were tied for first in the NL Central, and for once there was an actual clamor for the front office to be buyers at the trade deadline. Then that Jerry Meals thing happened, after which Daulerio told me he could see them losing something like 15 in a row, and I couldn't disagree. Because, like fans of longtime losers everywhere, I just know better. And, right on cue, they've gone 1-5 since that night. Clint Hurdle, who will likely win Manager of the Year just because, neglected to use Joel Hanrahan in Sunday's loss to the Phillies, and not even the addition of Derrek Lee and his two homers could prevent a defeat last night at home against the lowly Cubs. This all has a familiar feel to it, but that other stuff sure was nice while it lasted.
Elsewhere
The Bryan Stow case is getting weirder: "A key witness in the beating case of Giants fan Bryan Stow at Dodger Stadium died suddenly, apparently of an allergic food reaction. According to law enforcement sources familiar with the case, Matthew Lee died Sunday after eating a salad that apparently contained nuts, which caused the allergic reaction. The coroner has not determined a cause of death, however." [LA Times]
FIFA, the billion-dollar nonprofit: "FIFA presently pays 2.1 million dollars in taxes on a billion francs 1.2 billion dollars worth of equity. The organization's profits are not taxed. According to canton of Zurich tax authorities, if FIFA were a business it would have paid 71 million dollars worth of taxes last year. 'It's galling that we have to try to save money by cutting food budgets at old peoples' homes while we're subsidizing FIFA,' says Badran. Adds Glättli: 'We're throwing money at FIFA, which is a global concern completely lacking in transparency.'" [Time]
This is actually a very strange lede: "Ubaldo Jimenez was a superstar who walked to the ballpark. Nobody liked him, other than the owners, the general manager, his teammates, fans, autograph seekers, reporters and stadium ushers." [Denver Post]
Rex Ryan has more predictions for the season ahead: "'I don't know what the experts say, I just know what I believe in my heart and that's that this is going to be our year,' Ryan said on Monday. 'Again, I think we have to find somebody out there to beat New England besides us, and I think that would help. Anybody out there that wants to sign up for it? Are you good enough as a team to beat the New England Patriots? Forget about us, are you good enough to go out and beat the New England Patriots? I'm challenging the league.'" [WEEI]