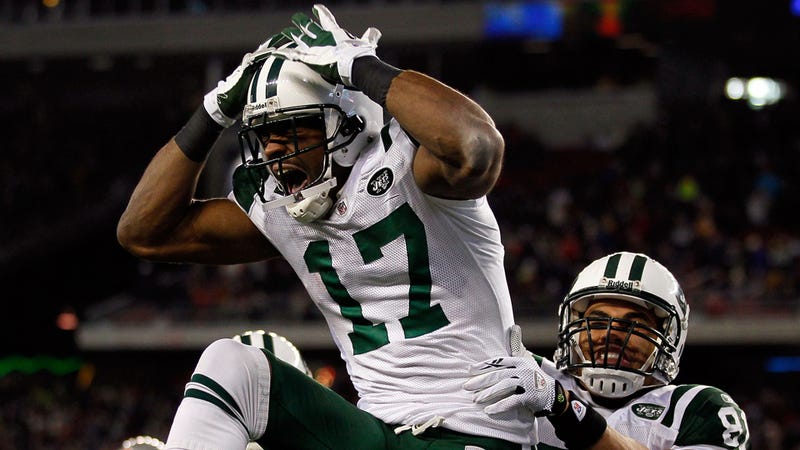 Former Jets and Browns wide receiver Braylon Edwards is a free agent. Edwards is 6' 3", spry, a leaper. He has 39 touchdowns in six seasons, which ties him for 23rd among active players. And he's one of the youngest in that bunch.
But no one wants him: The Jets prioritized Santonio Holmes over Edwards, before signing Plaxico Burress—after a two-years-and-change layoff—instead of Braylon. The Seahawks threw $41 million Sidney Rice's way, despite his injury history, and the Vikings responded by signing Michael Jenkins to replace him. Kansas City gave Steve Breaston some serious coin. The Packers gave James Jones a three-year deal, too. Edwards doesn't really understand why he's getting passed over.
But we know why no one would want to build around Braylon—he's always on the fringes of trouble. He's the player about whom columnists would say, "You know, he just doesn't get it," and they'd be right.
Take Sunday night, when Braylon's entourage, during a night of partying at South Bar with Jalen Rose (who began serving a DUI jail sentence today), started a fight with staff.
From Fox 2 in Detroit:
Sunday, Edwards was allegedly at the South Bar in Birmingham. Reportedly two people in his entourage were arrested after roughing up some employees around two o'clock in the morning.

Around that same time, Edwards tweeted, "Damn. Get ya knuckles ready" and "Don't fight if. You don't know how."

We're told the group of friends Edwards was with got into an argument with an employee at the nighttime hot spot that eventually spilled into the kitchen. There one worker was sliced with a knife requiring 14 stitches. Another was attacked with a fork.
EDIT: We had heard a little bit about this too, before the Fox story went to press: A tipster wrote, "Have you guys got the news on him at South last night????? This story is gonna take the cake. No way he starts this season off after Goodell gets a hold of this." A Twitterer who talked about beating people up for Braylon (he's since scrubbed the tweet) told me he wouldn't "snitch" on Monday.
The police say Edwards wasn't involved in the fracas, that the officers never even interacted with him. Ordinarily we—or like-minded sports fans—would claim Edwards was getting an unfair shake from the media, or the police. But those earlier tweets! Why, Braylon, why? (He later tweeted, "Yo...Lost my phone last night someone sent tweets. Deleted them and changed my password. Sorry for the mishap hopefully never happens again!" We know how the hacker excuse usually works.) And even when he's not running afoul of the law himself, he's flanking someone who is, or he's just being stupid.
Edwards was also out drinking with Donte' Stallworth in Miami the night Stallworth drove drunk and killed a pedestrian.