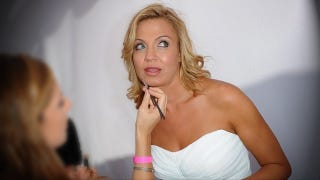 Two weeks ago, after serving as ESPN's show pony during their annual ESPY Awards, Michelle Beadle hit many of the late-night parties around Los Angeles. She readily admits that. After all, she hadn't gone out at all after last year's event. And she even admits that, upon her return from L.A., she was summoned into the office by her boss, Vice President of Content Integration and Strategic Planning Marcia Keegan, and informed there were some unpleasant rumors making the rounds in Bristol about her party antics — including one involving inappropriate behavior with Green Bay Packers quarterback Aaron Rodgers. But Beadle denies all of that. "I got angry," she said in a phone interview today, "because everything she asked me about was absolutely not true."
According to Beadle, John Walsh, ESPN's executive vice president, had asked Keegan to meet with Beadle to address the rumors. Keegan told Beadle that co-workers had accused her of being drunk and using drugs at the ESPY after-parties. Keegan also asked if she had said anything inappropriate to Rodgers at a nightclub where the two had been seen together.
"I saw and talked to Aaron the first night I was there," Beadle said. "I don't know the guy or anything, but we [she and her girlfriends] were hanging out with him. But Marcia told me that she heard I had apparently blurted out in front of him, 'I just wanna get fucked' very loudly."
Annoyed and incensed at this point, Beadle demanded that Keegan tell her which of her Bristol colleagues had spread the rumors. She wanted to get a lawyer, she told Keegan, and sue whomever it was for slander. Keegan did not tell her, and Beadle calmed down and resumed her Bristol duties, certain that this incident was behind her. Until, of course, we heard about the rumors and received confirmation that she had been approached by one of her bosses about it. Yes, in the aftermath of the ESPN Book interview, Beadle has been discouraged from speaking to us on the record, but she wanted to dispel what she claims are vicious lies before the stories of her ESPY partying spread any further.