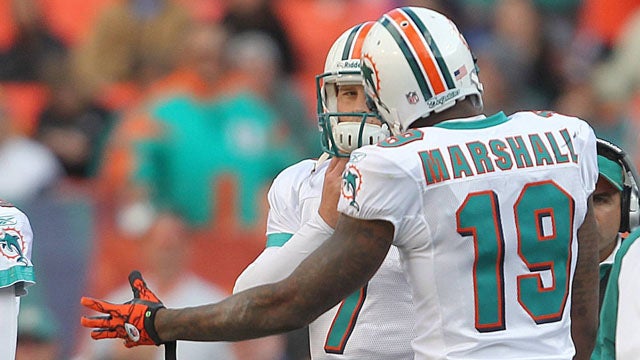 S
Last year, the Dolphins' star receiver, Brandon Marshall, and quarterback Chad Henne were rarely on the same page. The team didn't play well; Marshall didn't catch touchdowns. Marshall even went as far as to tell a radio interviewer that Tyler Thigpen "gets it" more than Henne does. (In case you were wondering, he was talking about the same Tyler Thigpen who screws skeletons.)
But now things are all lovey-dovey between Marshall and Henne, per the Sun-Sentinel:
"I mean, it's just the communication," Henne said. "We're building it, I'm happy with it. The more our offense communicates as a whole, the better our offense will be."

After the game in the locker room, Marshall went out of his way to praise Henne—something that never happened a season ago. A reporter asked Marshall a non-specific question about the success of the offense, and Marshall used it as a platform to instead talk about Henne.

"I love how Chad Henne took over the offense," Marshall said. "He's just done a tremendous job of taking over the huddle. You need that in a quarterback. The talent is there, but the leadership he's shown from the offseason into this camp has been amazing, a huge difference."
Marshall underwent treatment for a borderline personality disorder during the offseason, so this all has the familiar ring of a couple fresh off their first few counseling sessions. Just wait until Henne comes home to find Marshall in bed with Thigpen. Then it all goes out the window.
Dolphins' Chad Henne, Brandon Marshall working to improve relationship [Sun-Sentinel]