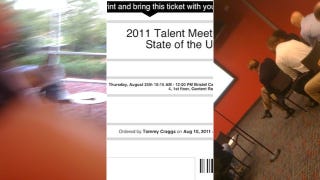 Let's make one thing clear up top: Norby invited me. That would be Norby Williamson, ESPN's executive vice president of production. I have the email right here. Sent from TalentOffice@espn.com at 4:09 p.m. on Aug. 5. Subject line: "2011 'State of the Union' Talent Meeting - Sent on Behalf of Norby Williamson." It reads in part:
Please join me for a mandatory Talent meeting scheduled for Thursday, August 25th. We are planning to make this an annual "State of the Union," which provides you with an opportunity to hear about the latest ESPN business, Talent Office initiatives and other pertinent talent related topics and discussions. I am looking forward to having an open dialogue on our priorities and strategies for the upcoming year
I can't tell you why I got this, but I have an idea. A few years ago, in another life, I factchecked for ESPN The Magazine on a freelance basis. There is no figure more extraneous to the ESPN multiverse than the guy in New York whose job is to make sure Stephen A. Smith spells "Stojakovic" correctly, but my guess is that I wound up on an ESPN distribution list anyway and that some poor soul simply forgot to cross off my name when I left the place in 2009. That's my guess, anyway. The point is, Norby asked me to come. He wanted me to hear about the latest initiatives. He wanted an open dialogue with me about priorities and strategies and other pertinent talent-related topics. He said it was mandatory.
He said "please."
As a friend put it, the punch bowl had invited the turd.
* * *
What would you like to know about my afternoon in Bristol? Do you want to know what it's like being interrogated by a man named Norby? What it's like to stand in the hallway just outside of Content Rooms A-B-C of Bristol Campus Building 4, faint sounds of corporate self-congratulation floating from the room, three vice presidents in front of you, eyeing you, looking at you as if you were the last heretic in Spain? What it's like to wait in a lobby as security guards materialize out of the walls, each one bigger than the last?
Let's start at the beginning: I caught a ride to Bristol with a former ESPN colleague, Kevin Collier, another onetime factchecker who, while aware my intentions were somewhere south of innocent, at least had an honest reason of his own to attend: He was in the running for an odd job or two at ESPN and had hoped to speak with some editors in Bristol after the meeting. He would do no such thing.