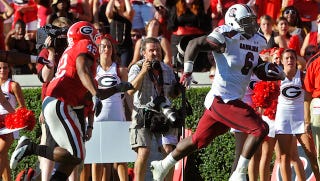 It's time for a new installment of Deadspin's college football rankings. As always, the teams are ranked according to the logic and values of college football, no matter how bizarre or contradictory they may be.
1. Auburn (2-0) Last week: 1
Did someone say "heart of a champion"? Why, we did, last week. Then, on Saturday, the ESPN scoreboard had an "Upset Alert"—not because the undefeated reigning national champs were losing, but because they were shocking the mainline pollsters by holding a lead on less accomplished, more highly rated Mississippi State, 41-34.