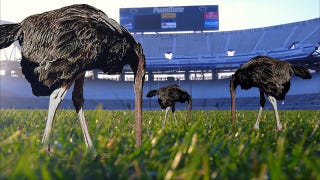 Well, here it is. Actual football after all the madness of this week. Let's discuss it like rational adults down below, yes? If you're behind, catch up on all our Penn State coverage here.
Usually, I break these open threads down by time and try to give a cross section of what everyone could possibly be watching, but let's get real. The other networks might as well broadcast bowling or bull riding or some weirdo made up extreme sports competition. We will all be watching Penn State and Nebraska.
It is going to be the most compelling sporting event I have watched in, I don't know, ever? The atmosphere in that stadium is going to be so bizarrely charged—and loud—I am legitimately anxious to watch. It really struck me when I saw some of the player tweets. Some were obviously crazy and terribly misspelled, but others were oddly poignant. It is Senior Day for some of these guys and—whatever your opinion of Paterno may now be—they will be without their coach and that is probably devastating.