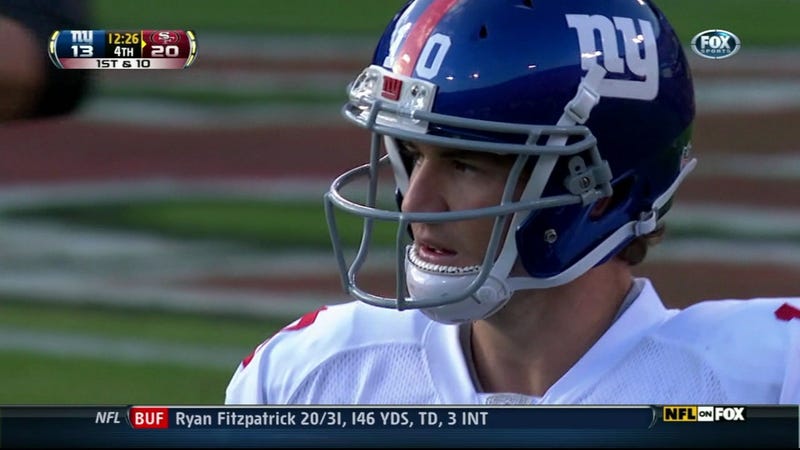 For whatever reason, Eli will always be considered a terrible quarterback. Maybe it's because he is a contemporary of some very, very good quarterbacks—one of whom is his big brother—or maybe it's because he is kind of a doofus. Or maybe it's because he lost to Alex Smith and is terrible. Either way, here's your Sunday roundup. Enjoy.
Arizona 21, Philadelphia 17: John Skelton is a force, ladies and gentleman. A perfectly thrown ball to Larry Fitzgerald, who almost ruined it by trying to dive and scramble into the endzone, set up what would be the game winning touchdown to Early Doucet. He's my MVP dark horse.
Tennessee 30, Carolina 3: Someone forgot to DVR the Cam Newton Show this week. According to Cam, the 2-7 Panthers got a much needed "reality check" after the drubbing at the hands of Chris Johnson and the Tennessee Titans. Right.[SI]
Houston 37, Tampa Bay 9: The Texans are now 4-0 without Andre Johnson this year. Matt Schaub continues to be perfectly serviceable alongside Arian Foster and the league's number one ranked defense. What that actually means? I don't know, but they're doing it without Mario Williams. [CBS]
Miami 20, Washington 9: Leave it to the marvelous Rex Grossman and Mike Shanahan to end the longest home losing streaking in Miami Dolphins franchise history at seven. Leave it to the Miami Dolphins to extend Shanahan's career worst losing streak to five. Reggie Bush scored two touchdowns—abnormal—and Rex Grossman was intercepted twice—normal.
Jacksonville 17, Indianapolis 3 : I am now a hundredaire.