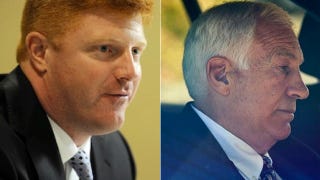 Today's New York Times has a long story about how the investigation into sex-abuse allegations against Jerry Sandusky developed. Four key plot points jump out:
From the story by the Times's Jo Becker (emphasis ours):
Working off the brief mention on an Internet forum where people chatted about Penn State athletics, according to the two people with knowledge of the case, investigators narrowed their list of coaches likely to have seen something to Mike McQueary, then an assistant coach and the football program's recruiting coordinator.

State College is a close-knit community. Word would get around that a Penn State coach had met with investigators. So investigators set up a meeting in an out-of-the-way parking lot, according to those with knowledge of the case.

There, one day a little over a year ago, McQueary unburdened himself, the two people said. He needed little prompting.

He told of a horrific scene he had stumbled upon as a graduate assistant one Friday night in March 2002: a naked boy, about 10, hands pressed against the locker room wall of the Lasch Football Building, being raped by Sandusky. McQueary was explicit and unequivocal, the people said. He had told Paterno, the team's longtime and widely beloved head coach, about the incident the next day, but he was filled with regret that nothing had happened.
So, basically, it was message board rumors that cracked the case. And McQueary—the prosecution's star witness—had harbored enormous guilt that nothing was done. Which makes McQueary's subsequent statements, revealed in private emails that were leaked this week, about having gone to the police and done something to stop what he saw Sandusky allegedly doing all the more curious. Why does he now feel the need to equivocate?