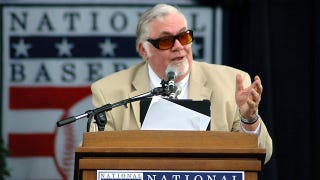 The Philadelphia Inquirer's top investigative reporter, Nancy Phillips, has written a story containing what we're told are allegations of child molestation against sportswriter Bill Conlin, a longtime columnist at the rival Daily News. Conlin resigned just moments ago, according to a source at the Daily News.
Conlin, who turns 78 this May, won the Ford C. Frick J.G. Taylor Spink Award last May. The story supposedly will drop soon (the newspapers are published by the same company, sharing some resources and a website but otherwise competing for a number of the same readers). Conlin has hired an attorney to defend himself against the piece. We'll have more details on this. For now, we can tell you that Conlin is at his condo in Largo, Fla.
UPDATE, 4:25 p.m.: The Inquirer's story has been published. Three women and a man claim that they were molested as children by Bill Conlin in the 1970s. Our guide to the allegations can be read here.