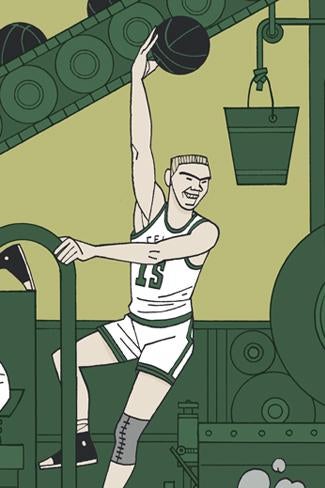 Republished with permission from The Classical. Illustration by Jacob Weinstein.
Tommy Heinsohn looks much larger in person than on television. I'd been in the presence of larger men, but no one has ever made me feel as physically small. The first time I saw him up close, in the TD Garden pressroom, the 6-foot-7-inch Heinsohn was wearing the biggest, most profoundly beige sports coat I'd ever laid my eyes on. This was late 2006, in the middle of one of the worst seasons in Boston Celtics history. Heinsohn, who played for the team from 1956 to 1965, coached it from 1969 to 1978, and settled into the broadcast booth by the early 1980s, was smiling. Yet I was afraid to say hello.
When the Celtics were in the post-Larry Bird doldrums, Heinsohn was there for me. He ripped referees, demonized seemingly harmless opponents, and talked up mediocre players like Kenny Anderson. ("I think this team can average 110 points per game with Kenny at the point," he said on air in 1999) Prone to both unbridled joy and rage, Heinsohn was, and still is, Boston's id. And despite what people born west of Hartford may think, there's beauty in his delusions. No human being is, or ever will be, as blindly loyal to a sports franchise as Heinsohn is to the Celtics.
"Tommy doesn't really do color," Mike Gorman, the team's play-by-play man, told Shira Springer of the Boston Globe back in 2005. "In his heart, he's still coaching the Celtics, and he always will be. It doesn't matter who the coach is, and it's no disrespect to the coach. This always will be Tommy's team. Tommy will be coaching this team till he takes his final breath. If it was possible to still be playing for this team, he would be."
More stories you might like from The Classical.
• Mashburn Comes Alive!
• Chauncey Billups in End Times City
• Save The Children
• Torreón's Household Saints
As the lockout dragged on this fall, I began to worry about Heinsohn. "The last lockout," Heinsohn, 77, told me last month, "my wife and I were going to [then Celtics coach] Rick Pitino's kid's high school games." Since then, 13 years have passed. In that span, the Celtics returned to prominence and won another championship, and in November 2008, Heinsohn's wife Helen passed away. "It's quite a bit different now," Heinsohn said. "I've been doing this a long time. Vacations are welcomed."
As a Tommyphile, I didn't have the heart to tell him I disagreed with that last part.
* * *
If you've watched a single local Celtics broadcast since the Reagan era, you know Gorman's description is apt. If you haven't, please refer to the events of Dec. 11, 2002. Phoenix beat Boston 103-94 that night, but the outcome is less important than the performance of officials Ken Mauer, Scott Wall, and Sean Corbin. The visiting Suns attempted 24 more free throws than the Celtics. And, in the third quarter, Paul Pierce had to leave the game after Amar'e Stoudemire smashed him in the face. No foul was called on the play, despite the fact that Pierce chipped two front teeth. At that point, Heinsohn began to unravel.
"This is getting ridiculous! This is absolutely ridiculous! This is absolutely ridiculous!" he said. "This is ridiculous. And you could sense this from the very beginning of the ballgame that these guys are not with the program tonight. And I will tell you this, Paul Pierce, who is an upper-echelon player in this league, has been treated like a rookie."
In the world of sports punditry, everybody has a bugaboo. Don Cherry thinks French Canadians and Europeans are pansies. Mark Schlereth hates kickers. Howard Cosell used to rail against networks gifting broadcast gigs to ex-athletes. And Heinsohn? He's always complained about the referees. (He once starred in a "Tastes Great/Less Filling" Miller Lite commercial in which he engaged in a mock shouting match with former NBA official Mendy Rudolph.)