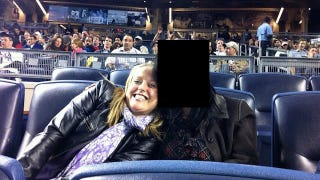 "He knows that if he does this, I'll lose my daughter," Brian Cashman's mistress Louise Meanwell told me. This was the night of Jan. 31. Two days later, it was done: Meanwell—also known as Louise Neathway—was arrested and charged with extortion and harassment, with Cashman the victim of her alleged crimes. The day after that, Cashman's wife, Mary, filed for divorce, after 16 years of marriage.
What happened between Brian Cashman and Louise Meanwell? On Saturday, the Daily News—which was quick out of the gate portraying Meanwell as a deranged stalker—reported that a week before the NYPD arrested her, Cashman had tried to arrange to get her institutionalized, having his lawyer ask Meanwell's mother to call 911 and report her daughter as mentally unstable.
On Jan. 31, Meanwell had emailed me a recording of a phone call between her and Cashman in which she castigated him about the meeting between her mother and his lawyer. "No one told her what to say, and that call was made by her," Cashman says. "So goodbye. I'll talk to you with a lawyer. I will talk to you with a witness."
"You're a liar," Meanwell says.
"No, you know what? The truth—I guess the truth will come out," Cashman says.
***
Five months ago, when I first contacted Louise Meanwell/Neathway, she told me emphatically that she was not romantically involved with Brian Cashman. I had been looking into a different affair, Cashman's 2009 relationship with Kim Brennan, which broke up Brennan's marriage and strained Cashman's own. That led Cashman to move out of his household in Darien and into a new home in Rowayton.