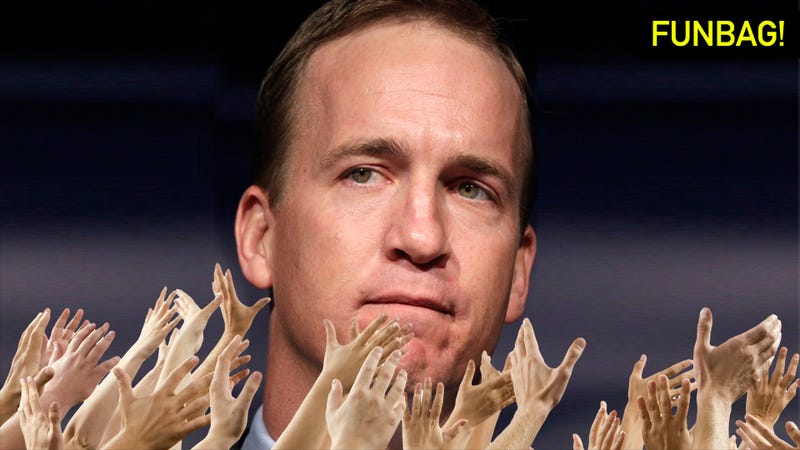 Time for your weekly edition of the Deadspin Funbag. Find more of Drew's stuff at KSK or on Twitter. Buy Drew's book, The Postmortal, through here. Email the Funbag here. Today, we're covering RGIII, poop, daylight savings, and more.
Your letters:
Mike:
Shouldn't Peyton Manning extend his free agent tour for as long as possible, so that he can get all the free dinners and comped fancy hotel rooms he can?
He should. After all, he will never again have this kind of free agent frenzy surrounding him. If I were Peyton, I would make a list of outrageous demands for all potential suitors. I would definitely want the best room in the city's best "We have to fuck in this hotel" hotel. You know the kind of swank hotel I mean. You walk in, and immediately all you want to do is find someone to have sex with on the balcony. He should demand that, PLUS the full Bourdain tour of the city's finest hipster eateries. Any team that takes him to the Capital Grille and calls it a day gets nixed off the list.
I would also demand that the team fund its own Super PAC to place ads on local TV begging me to arrive. And the ads would have to have real production values. None of this stock footage crap. I would know if I saw a Corbis watermark anywhere. And I would demand that the Broncos cut Tim Tebow NOW. Just to prove that they loved me. I bet John Elway would do it. I bet John Elway would do anything to rid himself of Tebow once and for all. I'd also demand Black Keys tickets.
I can't believe Peyton is turning down a chance to be wined and dined by the Dolphins. I know he lives there, but still. They could put him up at the Delano, surround him with cigars and pussy, and show him a real nice time. And then he would have the satisfaction of turning them down and watching the growing look of horror and disappointment on their faces when it happens. I'd also tour Cleveland, just to get people's hopes up and be a real dick.
One other note: If Peyton really does go to the Broncos: AHAHAHAHAHA.
Jack:
Mike Shanahan is gonna ruin RGIII, isn't he? Fuck.
Yep! WOOHOO!
One thing about this RGIII trade: There are people here in DC who are reasoning that the Redskins really only gave up TWO first round picks to get Griffin, which is the single most annoying thing ever ("We swapped picks! The #6 overall we gave up totally doesn't count!"). You gave up three first round picks. If you have only given up two, then you would have had two first round picks this year. You see how that works, you fuckheads? Stop trying to convince the world that you didn't get fleeced, because you did. And now Shanahan is gonna make him study film of John Beck and the poor guy will be ruined within two years. They can't even afford a wideout now that the NFL took away all their cap room (which was complete bullshit, by the way. You have to be a galactic fuckup to get people to sympathize with Dan Snyder on anything).