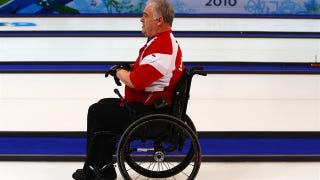 Stop reading right now if you'd like to believe that curling, or the Paralympics, or frigging Paralympic Curling is the last bastion of drug-free sports in the world today. Nothing is pure anymore. Jim Armstrong, a member of the Canadian Curling Hall of Fame and skip of Canada's 2010 Paralympic gold medal team, will be suspended for 18 months after failing a drug test in December.
Armstrong's drug of choice, and his excuse for taking it, warrant mention. He tested positive for tamoxifen, a prescription drug usually used to treat breast cancer, and that's exactly what Armstrong says the pills were for—but not his breast cancer, his dead wife's. Carleen Armstrong passed away in 2009, and Armstrong argued before the World Curling Federation that he had accidentally taken some of her old pills, which look similar to the aspirins he takes to prevent heart attacks.
It's plausible, but there's another very good reason an athlete would be taking tamoxifen. As an estrogen blocker, it's often used by PED users to counteract the wild hormone swings brought on by steroid use. An anti-"bitch tits" drug, if you will. Manny Ramirez was tied to tamoxifen use back in 2009, before testing positive for a separate fertility drug with similar effects.