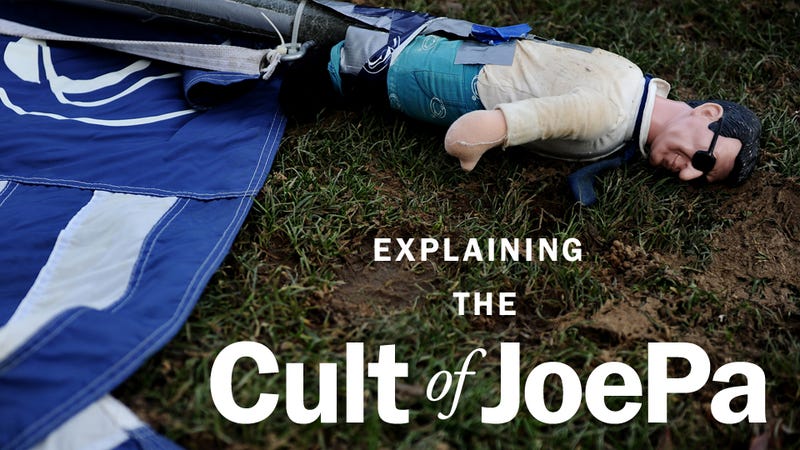 An interesting thing to do in the central Pennsylvania college town where I live and work is to walk around the town and campus and make a list of all the things that remind you of the recently deceased football coach. These include but are not limited to: Joegies, the sandwich shop in the student union; the pizza places and other local businesses that have "JOE" or "JOPA" worked into their phone numbers; the "Joe Papaya" smoothie at the bagel shop on College Avenue; the "Joe Knows" t-shirts and life-sized cardboard cutouts that have been on sale for decades in downtown shops, along with more recent additions like the "Thank You, Joe" t-shirts and the embroidered Paterno Legacy Pillow. And this doesn't even touch on the most obvious stuff, like the campus creamery with its top-selling Peachy Paterno, the library with his name on it, and the bronze likeness of the coach frozen in mid-stride outside Beaver Stadium.
What's interesting is to make this list, and then imagine all these things being gone.
The point was made when he died last winter that arguably no single person had ever had as great an impact on a major university—not a football program, but the entire institution—as Joe Paterno had on Penn State. Erasing his name and image from this town would be an impossible feat, both physically and emotionally.
If you are by any definition a "Penn Stater"—and I am: an alum, a football season ticket holder, and a university employee—these past eight months have been horribly surreal, and more than a little personal. For the rest of the world, it's just been a Really Big Story. I'm writing this piece for Deadspin (anonymously, because speaking bluntly about all this while on the university payroll doesn't seem the best way to keep my job and feed my kid) largely because it's Deadspin, where sport's biggest shitheads go to get the scorn they deserve. Certainly there's no bigger shithead in the history of American sports than Jerry Sandusky, and plenty of other characters in this saga have played the villain to varying degrees. Of the peripheral bad guys, Paterno is the only one whose culpability and legacy matter to anyone other than lawyers, prosecutors, and their own friends and family. I imagine Paterno is the only reason most people are still paying attention.
I'm not here to defend Paterno, nor really to defend anyone at all. But on the eve of the release of the Freeh report—which promises to be a scorched-earth review of Penn State's handling of the Sandusky matter—I'm compelled to try to explain why it is that so many of "us" seem like cultists, or at least delusional loyalists to a benevolent dictator who it turned out was only benevolent when it suited him. Some percentage is delusional, of course, though I'd argue it's no greater share than in any segment of society. I'm making the case for the overwhelming majority of Penn State fans and alumni, many of whom have made themselves look like fools over these past eight months with maudlin arguments in Paterno's defense. Most aren't fools, and no one I know is a conscious apologist for a guy who appears to have been covering for a child rapist. They're simply stuck somewhere in the first two stages of grief, unable to grasp the apparent truth, livid at a larger world that berates them for ignoring what seems obvious to everyone else.