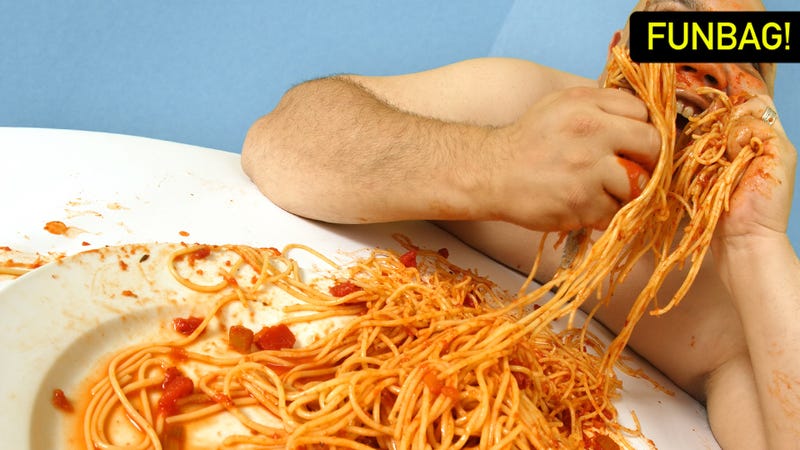 Time for your weekly edition of the Deadspin Funbag. Got something on your mind? Email the Funbag. Today, we're covering roaches, revolutions, jizz nutritional values, and more.
Your letters:
Adam:
What is the most overrated pasta shape? I say spaghetti. That is, unless you enjoy hard-to-wrangle food that has a tendency to splatter sauce on your shirt. I don't understand the spaghetti obsession. Give me penne or ziti or some variant any day.

I'm not saying it's the worst, just that it's overrated. When cooked right and with a well made sauce, spaghetti can be truly great, but let's be honest - how often does that happen?

Rotini are pretty goddamn annoying and would have to rank near the bottom. They're always put in pasta salad with an oil based dressing, making them even squirmier. Doesn't your aunt want you to enjoy both the flavor AND the act of eating the salad she labored over? Apparently not.
I often get frustrated with spaghetti because spaghetti is often so thick and so slippery that even if you execute a perfect twirl using a spoon for leverage (something I really enjoy doing whenever I'm in an Italian restaurant. LOOGIT ME I'M A PAISANO), the spaghetti still has a tendency to slip right off your fork. And when that happens ... DISASTER. It's like a physicist decided to demonstrate chaos theory on your t-shirt.
Linguine presents the exact same problem. In fact, linguini is even worse because it's flat and therefore specifically tailored to slipping through the gaps of your fork tines. Linguine is bullshit. I've tried for ages to get my wife to recognize the importance of angel hair. Angel hair is the perfect long pasta for grotesquely overweight human beings. You can twirl up a pound of it and that shit stays on your fork forever. I like to twirl up a boulder of it and then it eat like a corndog. You can't make a bite of angel hair big enough for me. I unhinge my jaw at the sight of a plate of angel hair. It makes me extremely happy. And such a fast cooking time! Two minutes in water and you're eatin'. Spaghetti takes AGES by comparison.
Rotini presents problems because, as Adam said, you often find it in pasta salad, and getting a successful bite of pasta salad that has every element of the salad contained inside of it (a bit of cheese, a bit of pasta, a bit of whatever vegetable is there) has never been successfully accomplished in the modern era. Pasta salad is an edible fallacy. Here is a sloppy list of what I consider the five most overrated pastas. Consider this your invite to start a pasta flame war in the comments:
1. Linguine.
2. Orzo. If you want rice, make rice. Ever try to strain orzo? It's like trying to catch a baseball with a hula hoop.
3. Spaghetti
4. Rotini
5. Macaroni. Two of my kids have eaten boxed Kraft mac for dinner every day for the past four goddamn years. I have eaten every possible variant of Kraft and Annie's boxed pastas, from bunnies to Arthurs to Phineas & Ferbs to shells to macaroni, and the macaroni is almost always the most boring one to eat. I'd take shells and cheese over that shit any day.
Now, to five favorite shapes of pasta:
1. Ravioli/tortellini. There's shit already inside. I don't have to have a nervous breakdown trying to make sure there's a piece of crumbled sausage to go with my bowtie pasta. It's right there for me.
2. Orecchiette (ears). Easy to stab, and the meaty bits stay inside the ear when you lift your fork. I like to taunt my ear pasta before I bite down ... WHAT YOU ARE ABOUT TO HEAR IS YOUR OWN DEMISE.
3. Rigatoni. Big fucking tubes mean a better chance of meat getting stuck inside.
4. Angel hair/vermicelli
5. Campanelle. Kind of looks like Chef Boyardee Roller Coaster. God, I loved those. Honorable mention to tagliatelle
Kyle:
What is the likelihood of the general American population being able to overthrow the current government? Let's be clear, I'm not an Anarchist or some political freakazoid, but I think about it.
I think that a massive group of Americans could storm the Capitol and "take over" Congress if they were so determined. Obviously, snipers would take out many of the stormers and they would be lost as collateral damage. But if the plan were somehow carried out in secret, I think you could make it to the chamber of Congress before the helicopters arrived and gassed everyone outside to death. You might even be able to hold the speaker of the House hostage for a few minutes, and that would be fun.
The problem is that you would still have to get at the president, and the prez is a slippery eel. He'd be whisked away in a helicopter, where he would be free to issue the KILL ORDER that ends with a million rotting corpses strewn about the National Mall. You say you want a revolution, WELL HERE'S YOUR REVOLUTION, BITCH. The harsh truth is that staging a coup de'tat against a government as large as ours, with as many resources as ours, is virtually impossible. It's strong enough to crush you at any time. AND IT WILL. BUILD YOUR ARSENAL NOW, PEOPLE OF RURAL AMERICA. THEY'RE COMING FOR YOUR MOONSHINE AND OLD FIREWORKS.
Seriously though, even if you succeeded in overthrowing the government, what would you do? Draw up a new Constitution? People would just bitch about that one like they do the old one. There's no flawless form of government and that would occur to you only after being saddled with the impossible burden of having to guide a new nation into calmer waters. Every goddamn whiner out there would demand his or her voice be heard in your super new government. WAHHHH LEGALIZE POT WAHHHH NO MORE GAY MARRIAGE WAHHHH NO TAXES ... what a miserable existence. Our government may be hilariously corrupt and incompetent, but at least I don't have to do anything. And that's what matters.
I remember in college, I was extremely idealistic and bitterly hateful of the government, mostly because of the lyrics to Metallica's ...And Justice for All. And I used to day dream about overthrowing the government and starting a revolution and all that shit. As if someone like me could actually make life better for other human beings. I can't believe I was stupid enough to be that faux radical. Never listen to a college student's opinion about anything. Secretly, they're just as dumb as high school kids, perhaps even more so.
Matt:
Not a license plate (obviously) but kind of on the same theme and super classy....seen on the Charles River in Boston
The olive tits make it extra classy.
Jon:
You're a close follower of Favretards and know them well. What you may or may not know is that their ridiculous sentiment - "I'm a Favre fan more than a Packers fan" - has invaded Indiana. My dad was a die-hard Colts fan (at least in the years they were winning 11-13 per season. He rooted for the Bengals in the early '90s), but now has decided to switch his allegiance to the Broncos and Peyton Manning. I love and respect my father, but dear god, only serial killers and bandwagon evangelicals root for the Broncos.
Your father is a horrible person and you should let him know that. You Manningtards out there make me sick. You're just looking for a convenient excuse to root for a team that doesn't suck. And to abandon the Colts right after they stage one of the most impressive QB transitions in modern football history is not only disloyal, but remarkably stupid. Andrew Luck is AWESOME. Who ditches all that promise just to hang onto Fetushead for a couple more years? FAT HUMPS, that's who.