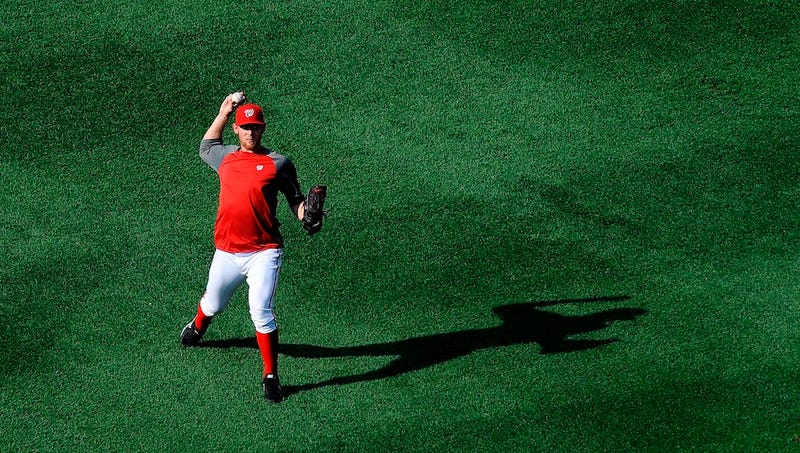 On Friday night, Stephen Strasburg made his last appearance of the season. The shutdown has come. The Nationals will not use him down the stretch, and they will not use him in the playoffs. The best pitcher on the league's best team will not sniff a moment of the team's most important games.
Nats brass says that shutting down Strasburg's arm after 160ish innings was always the plan, and the only acceptable plan, to protect their valuable, surgically repaired young pitcher. But the NL East team chasing Washington tried another strategy with their recently Tommy John'd righty, and it's worked well so far. Here's Ben Lindbergh at Baseball Prospectus:
Strasburg had Tommy John surgery on September 3, 2010. Braves starter Kris Medlen underwent the same procedure a couple weeks earlier, on August 18th. Strasburg returned to a professional mound on August 7 of the following season and totaled 44 1/3 innings. Medlen followed in his footsteps several weeks later, getting into a game on September 25th and pitching 2 1/3 innings before the end of the year.

That takes us to 2012. Strasburg started the season in the rotation and has stayed there ever since, without any major adjustments made to his schedule. Medlen started the season in the bullpen and didn't make his first start until July 31st. Since then, he's made six, and he hasn't allowed more than one run in any of them. In his last 28 1/3 innings, including eight last night in San Diego, he hasn't allowed any (almost halfway to Hershiser!) Medlen wasn't in Atlanta's playoff rotation a month ago, but he might be now. It's an option, at least: because he started the season in the bullpen, Medlen is up to only 95 innings, nowhere near the end of his leash.
Medlen's scoreless streak has since ended, thanks to an unearned run he allowed in a five-hit, no-walk, 12-strikeout complete-game taming of the Colorado Rockies on Monday. But the point remains: Medlen will be available to handle a full workload in September and October, while Strasburg won't. This was a calculated choice by Atlanta. GM Frank Wren told manager Fredi Gonzalez in March that he shouldn't open the season with Medlen in the rotation, because he'd never want to take him out.
The Nationals could have done something like that with Strasburg, holding him in the pen early in the season. They've had John Lannan—who has a track record as a league-average starter—in their Triple-A rotation all year. Lannan made spot starts for the big club in late July and early August and won both games, and the Nats are trusting him to fill Strasburg's spot for the rest of the season. Lannan, or Zach Duke, his Syracuse Chiefs teammate, could have handled half a season in the rotation well enough.
Lindbergh also suggests that the Nationals should have tinkered with Strasburg at midseason. Even if they didn't know in April that they'd have a shot at the playoffs, surely they knew in June. On June 13, the Nats were 15 games over .500 and had a five-game lead over their closest divisional competitors. They could have skipped some of Strasburg's starts and had him make occasional relief appearances to stay fresh, with side sessions to maintain his stamina.
Instead, they found themselves up against the innings limit.
Nats GM Mike Rizzo says the public only knows 10 percent of what's going on with Strasburg, and because of that, they shouldn't judge his decisions. But the last decade in MLB has been about opening up the game to the wisdom of outsiders—Bill James, Keith Woolner, and the Baseball Prospectus alumni in Houston. The Nats have used the Strasburg affair to retreat into old-timey gnosticism.