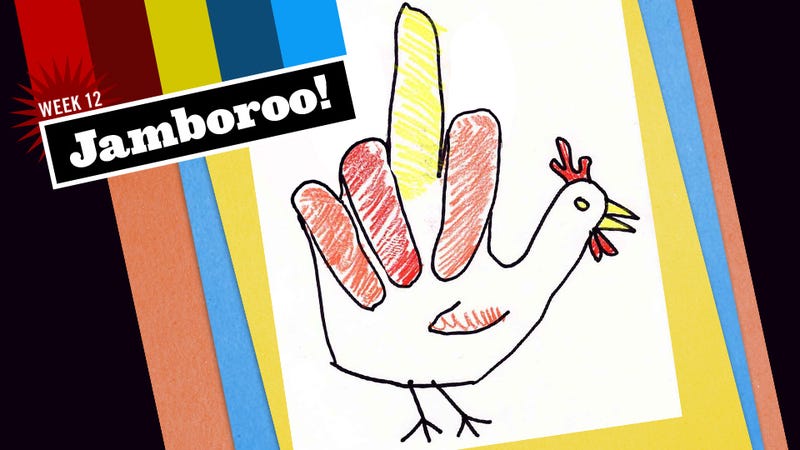 Drew Magary's Thursday Afternoon NFL Dick Joke Jamboroo runs every Thursday during the NFL season.
How the hell did "elite" become some widespread honorary to bestow upon a QB? Does Phil Simms realize that "elite" is just a word and not a fucking Academy Award? It doesn't mean anything. A QB doesn't get a $500,000 roster bonus because Tom Jackson declares him elite. It's the ultimate empty sports topic because you can declare a QB elite based off any criteria you pull out of your ass: winning Super Bowls, All Pro appearances, your gut instinct, how much of a semi Gruden gets when he sees Colin Kaepernick play well, etc.
It's an insult to sports fans in this day and age to still try to make a real issue out of something so pathetically empty. When you argue about whether or not a QB is elite, what you're basically saying to the world is, "I don't have anything to say." Eli Manning? NOT ELITE. Ryan Reynolds? NOT A MOVIE STAR. So cut it out, people. I don't care who your blue chippers are, or who your All Iron award winners are, or who rates five stars on Mikey's QB Star Chart. You are wasting lives going over this shit.
In other news, happy Thanksgiving, everyone! This Thanksgiving, I want you to remember the most important thing of all: turkey skin. Crispy, salty, golden brown turkey skin. Can't you see it now, coming out of the oven, tight against the turkey's breast? You know how it's thin and some places but then, in other places, it has this little extra bit of subcutaneous fat that bursts with flavor in your mouth? Isn't that awesome? Wouldn't you MURDER for that?
Drew Magary writes for Deadspin and Gawker. He's also a correspondent for GQ. Follow him on Twitter @drewmagary and email him at drew@deadspin.com.
Honestly, I don't even know why we bother with the meat of the turkey. We should genetically engineer all turkeys to have 50,000 square feet of edible skin. That way, the turkey comes out of the oven with layer after layer of fatty skin for me to CRUSHKILL. And I don't have to fight with my mom over not giving me enough skin.
MOM: You can always get seconds!
ME: Bullshit. Some other asshole will eat the rest of it and I'll be left out in the shitter! DON'T LIE TO ME.
Truly, it is the ELITE part of the turkey. Now, onto the games.
The Games
All games in the Jamboroo are evaluated for sheer watchability on a scale of 1 to 5 Throwgasms.
Five Throwgasms
Falcons at Bucs: Chris Myers completely botched the call at the end of Bucs-Panthers last week, saying "Panthers win!" when Dallas Clark scored the winning touchdown. That's insane. You're a play-by-play man. How can you fuck up the single most basic call of them all? If there's one play-by-play guy out there who might yell, "Touchdown, Hitler!" by accident, it's Chris Myers.
Niners at Saints: SINISTER MINDSET!
I wonder what would happen if a team that won the toss in overtime then mounted a really, really long drive that resulted in a field goal. After all, there are drives that have lasted 10 minutes or more. Does the other team then have to make sure their matching field goal comes before the end of the first overtime? Or can they take as much time as they like to march back down the field to answer in double OT? I would like one team to wage a 15-minute field goal drive on the first possession of overtime and then have everyone utterly perplexed as to what to do next.
Packers at Giants: There's nothing better than one of those plays where everyone thinks the ball is dead, only it's not and one dude scoops it up and scores and causes the team that didn't notice to want to commit suicide. I wish that happened once every game.
Four Throwgasms
Redskins at Cowboys: The two afternoon Thanksgiving games this week are actually pretty solid, which fucks me up. I'm so used to these games being terrible that I have no issue missing large parts of them to lick roasting pans clean. They should flex in one terrible game so that I don't miss anything important.
Three Throwgasms
Bills at Colts: I was curious the other day about how many people watch the Red Zone Channel every week. After all, anyone who has it watches it instead of watching a single game (unless that single game involves your favorite team, of course. And you would never cheat on your favorite team with Red Zone Channel, would you? That would make you a terrible person. You would never dream of turning away from the existential sinkhole of watching the Browns. You would keep watching even though you knew, deep down, that there was a fucking ORGY of happiness going on right next door, with touchdowns scored every seven seconds and a quick cut any time someone gets a false start penalty. You'd never sell your team out like that, would you?). You watch it. I watch it. We all watch that shit.
And yet, finding actual data on how many people watch Red Zone Channel isn't easy. The NFL will happily trumpet its ratings in primetime and for marquee afternoon games. But RZC ratings remain something of a mystery. Perhaps if network executives knew that 40 million people watched it every week, they might get curious as to why they're paying $24 billion to the NFL to provide them with what is, on the Red Zone Channel, commercial-free content. I have to think there's an executive out there who punches a wall every time Siciliano cuts away from a "Mindy Project" promo.
Texans at Lions: No more bye weeks! Hooray! The NFL is now fully armed and operational again. Although with the Thanksgiving games going on, it makes this Sunday feel as if six teams are still on the bye. Which sucks. Teams that play on Thanksgiving should have to play a second game that Sunday, just to make me happy.
Seahawks at Dolphins: I went to the fridge the other day and there was a mystery item wrapped in foil on the shelf and I got jazzed because you never know what's gonna be in a mystery foil item. COULD BE MEAT! I fully expected there to be a lobster tail inside the foil even though there has never been lobster inside this house. I opened the foil up and inside was a half-eaten muffin that I had WRAPPED MYSELF and completely forgotten about. Such a fucking letdown.
Vikings at Bears: Vikings punter and Official Punter of Deadspin Chris Kluwe also serves as the holder for Blair Walsh. And I was curious to know if Kluwe ever got scared that the kicker would kick the fuck out of his hand while holding. Every time I played touch football and someone asked me to hold for a pregame field-goal try, I always made someone else do it because I was deathly afraid of getting all of my metatarsals shattered with a firm kick to the palm. Kluwe says:
I've had my fingers clipped by the ball when I was slow getting the snap down, but never had my hand actually kicked. I'm pretty sure it'll never happen unless the kicker has a heart attack mid-kick... You'd have to be pretty terrible at kicking to hit the holder's hand.
Whatever, Mr. Holder Man. Don't tell me it can't happen because it WILL and if it ever happens to me I will cry.
Ravens at Chargers: My wife bought a Groupon for some pizza joint the other day but didn't realize that the voucher was for dine-in only. This rendered it all but useless, because I'd rather euthanize my three children than attempt to eat in a restaurant with them. So I put in a takeout order, sauntered into the place, and tried to pay with the voucher anyway, hoping the mouthbreather working the register wouldn't notice.
GUY: This is dine-in only.
ME: Ah, right. About that. Listen, my wife bought this Groupon without realizing it was dine-in only. STOOPID WIVES, AMIRITE?! But we eat here all the time (NOTE: total lie). How about cutting me a break on this?
GUY: I can ask the manager.
ME: Yes! You do that. That would be crazy awesome (makes guitar noises).
So he got the manager, and this big lady came and got all huffy with me.
WOMAN: I can't honor that voucher unless you eat here.
ME: Come on. Help me out just this once.
WOMAN: If I do it for you, I gotta do it for everyone else.
Now it was time to throw down a power move, Welzein-style.