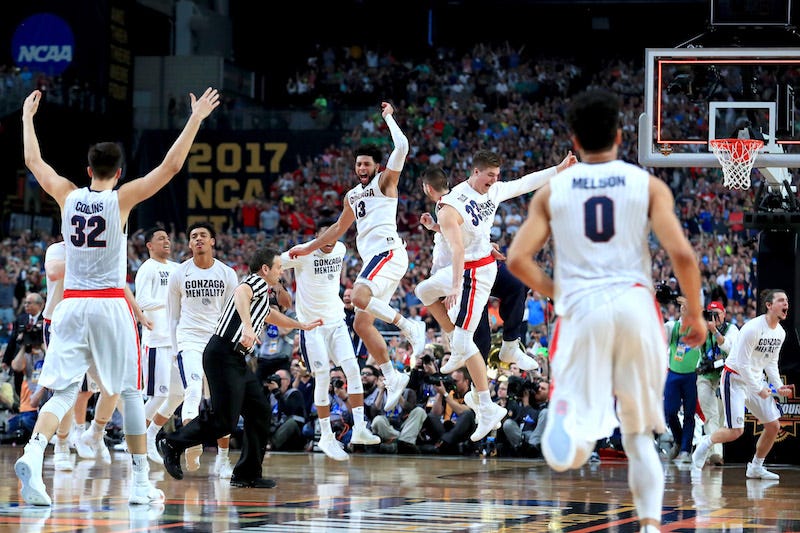 Thank you, Gonzaga. It was as if you read my angst-riddled mind on Saturday night.
With about 10 seconds remaining in the national semifinal, the Zags led South Carolina by three points and had to make one last defensive stop. And before the Gamecocks could get off a shot, Josh Perkins fouled Sindarius Thornwell. It was a floor foul, which meant Thornwell had to go to the line for two shots. He made the first and missed the second one on purpose. Gonzaga's Killian Tillie grabbed the rebound and made two free throws at the other end to end the game. Gonzaga won, 77-73. It will play North Carolina tonight for the national championship.
It was Perkins's foul of Thornwell that got me, because I feel it in my bones every time I watch a basketball team as it tries to protect a three-point lead in the waning seconds of regulation or overtime. It's a reflex. And it dates back to March 20, 1988.
One of March Madness's lesser-known but most impactful buzzer-beaters happened that day. Well, okay, it was impactful for me because I was 12 years old and obsessed with Pitt basketball and I remain convinced Pitt would have won the national title that year but, no, but the Panthers didn't foul Vanderbilt's Barry Goheen while up three at the end of the game. Instead, they let him dribble up the floor to take a game-tying three, and oh shit now I'm going to find the play on YouTube and make a GIF and drop it in here and watch it in a continuous loop and get all bummed out again and damn it to hell why, Pitt, why?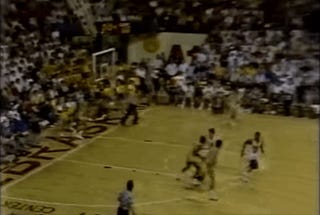 You don't need me to tell you that Vanderbilt went on to win in overtime. This was a second-round NCAA game. Vanderbilt was a No. 7 seed, Pitt a No. 2 seed. Kansas, a No. 6 seed, would defeat Vanderbilt in the Sweet 16, before going on to win it all. But that was one badass Pitt team. The Panthers were ranked in the top five for nearly the entire season. Jerome Lane annihilated a backboard. Pitt won the Big East's regular-season title outright, clinching it with a bruising one-point win against Syracuse at the Carrier Dome in the season finale. All year, it felt like Pitt was supposed to get to the Final Four; senior guard Demetreus Gore even made a rap video about it. Alas, nope.