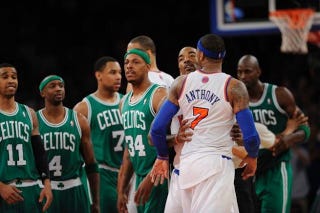 You know things have gone horribly wrong when J.R. Smith is the one playing peacemaker.
At home with a chance to close out the Celtics, the Knicks arrived at the arena wearing all black. They got destroyed.
"Well, we was going to a funeral, but it looks like we got buried," J.R. Smith said. "Basketball is a very humbling game."
After the game, Carmelo Anthony (22 points) and Jordan Crawford (DNP-shitty) exchanged words as they crossed each other's paths. Cameras caught Crawford saying something to Anthony, and it looked for all the world like "that motherfucker fucked your wife." (Vine by Chris Dutton.)
That'd be a reference to Anthony's confrontation with Kevin Garnett in January, during which Garnett reportedly made a comment about La La Vazquez, using a vulgar breakfast-cereal reference.