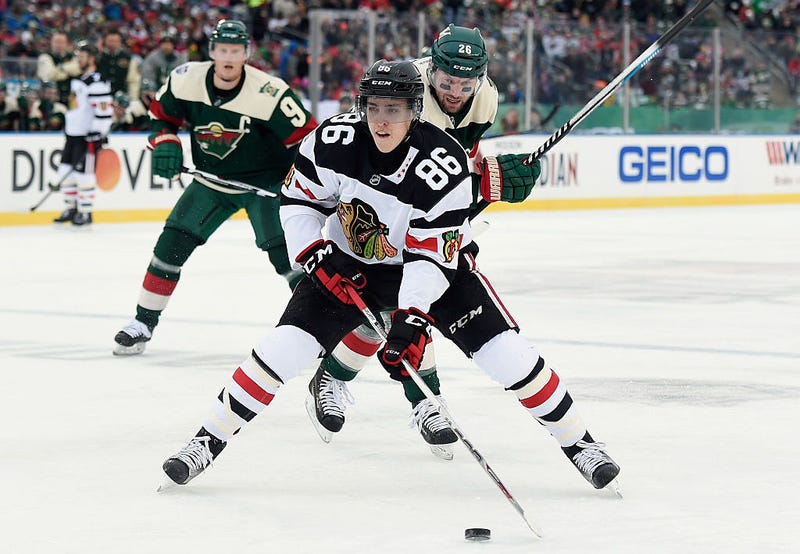 The Stanley Cup is barely parading through the streets of Pittsburgh and hot motherfuckin' stove season is already underway. The Blackhawks are shipping Teuvo Teravainen (he's good) and Bryan Bickell (he's bad) to the Hurricanes in exchange for a 2016 second-round pick and 2017 third-round pick (that's good) and relief from Bickell's cap hit (that's very good).
Lot of things going on here, so let's start with the Blackhawks. Bickell's four-year, $16 million contract, signed in 2013, proved to be a nightmare. They've desperately tried to trade him, but no dice, and have ended up just sticking him in Rockford. Clearing out the $4 million they owe him is a big deal to a team that's constantly on the verge of salary cap hell.
The poison pill for clearing Bickell's salary is having to include Teravainen, a 21-year-old center (who oddly hasn't played much at center) who is developing into a hell of a playmaker. He's not all the way there yet, and there's fair debate on exactly where "there" is, but everyone thinks Teuvo will be a good, core guy wherever he goes. The Blackhawks sure thought so.
But this is the sort of painful move you have to make to stay at the top in a salary cap league. To afford the guys who got you here, and who you hope will continue to keep you in contention, you have to get creative, and that means sending away good young players when necessary. This is two consecutive summers with homegrown future stars—Brandon Saad last year—being traded for cap space. It always sucks, but Stan Bowman had to do something.