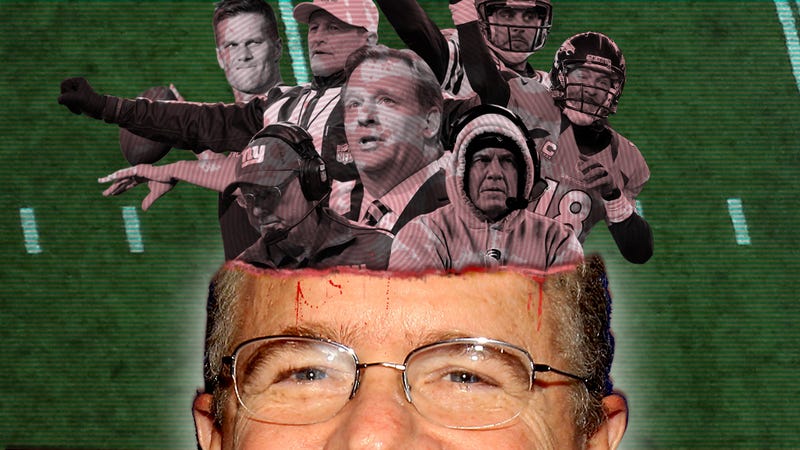 Peter King had been sitting with me in a waiting area on the second floor of the Time & Life Building for almost an hour. We were surrounded by conference rooms and executive dining halls, a little exposed to the light Tuesday traffic of the office, chatting about King and his career and his new venture, The MMQB, a football-specific website under Sports Illustrated's banner that launched today.
"Yeah. That's—that's the way it goes," King said when I thanked him for chatting with Deadspin. Sports Illustrated's PR guy, who'd set up the meeting and who'd sat in on much of the interview, laughed.
I'm telling you these details because these are the kinds of details that are important to King's conception of magazine journalism and MMQB itself—lightly impressionistic scene-setting that establishes the discreet, credentialed presence of a scrupulously non-judgmental writer. (I'll note here that a lesser journalist might've written, "... King said bitterly," because he did say it bitterly, and he might've written that the PR guy "laughed a little too loudly," because he did laugh a little too loudly.)
"I really want to write with an eye on the scene and being observational instead of just reporting what they say," King told me. "I want them to report what they see and what they feel."
Much of our conversation centered on this idea—on the access King gets, and the sort of reporter one becomes after decades of that sort of access.
"Look, there are pluses and minuses to doing something for 30 years," King said. "I think the pluses are I get to convince Jeff Fisher and Les Snead and Kevin Demoff at the Rams that I can sit in their draft room and write about the first round of the draft in a way that—never in the conversation before that do I say, I'm not going to screw you. I think they trust me to know that what happens in this room is going to be portrayed fairly."
King wrote a behind-the-scenes account of the Rams' war room back in April. It was an exceedingly rare bit of access. Chuck Klosterman had a similar piece for Grantland a couple of weeks later, writing about access he was supposed to get to the Browns' war room that ultimately never came.
"Now if you say, is it going to be portrayed in a way that is positive to their team?" King continued, about the Rams. "I mean, first of all, they have two [first-round picks]. But if they had known there was a good chance they weren't going to get Tavon Austin and do some of things that they wanted to? I'm not naive, I don't think they would have let me in the room, OK? But there's probably only a certain number of people who are going to be able to tell that story from the room."
One of those people—maybe the only one—is Peter King, the most-read writer in the NFL. The 24-year veteran of Sports Illustrated just signed a new contract with SI, which is estimated to be worth about $1.5 million a year and which includes the new breakaway website. SI owns it, and hired talented writers Greg Bedard, Jenny Vrentas, and Robert Klemko to write for it. King's popular Monday Morning Quarterback column will run there, as well.