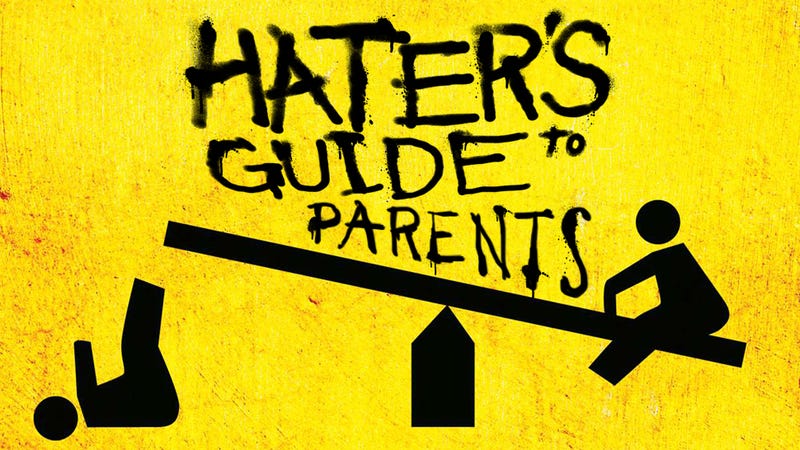 I am not the greatest parent in the world. In fact, I wrote an entire book coming out today that indisputably proves that statement. I have been arrested. I have yelled at my children. I have experimented with odd forms of corporal punishment. And I have conspired with my children to commit petty misdemeanors. All of that is bad. But I can comfort myself with knowing that, despite my many shortcomings, I am NOT the worst parent on Earth. Far from it.
Parenting is like driving in that everyone else out there seems to suck at it. Other parents are the WORST. Not only do they suck, but they suck in so many different ways! It's a veritable feast of horrific childrearing out there. And watching these other miserable parents in action helps me accept my own faults as a husband and father. In fact, so long as I'm not the worst, I see no reason to change my habits at all. So kudos to these 10 strains of miserable shiteaters who never should have spawned to begin with:
1. That lady who drops her kids off at the playground and then goes for a run. What are you doing? Seriously, what in the living fuck are you doing? You can't just LEAVE your kids at the playground. Who's gonna look after them? Who's gonna chew them out if they start strangling other kids with a swing chain? I swear there are parents who do this, and they are AWFUL. They usually do it with older kids, and that makes it even worse, because older kids are assholes. There are a dozen 5-year-olds at the playground and then one FAT AS SHIT 11-year-old bulldozing over all of them.
You should be jailed for this. It's criminal behavior. This is not a commune. You can't just leave your kid there and expect the rest of us to pick up the slack. If you moron kid ends up falling from the monkey bars and busting his elbow, I'm not calling for help. I'm letting his arm die and watching the wet gangrene set in. And then, when you come back from your little run, I'm gonna say, "Oh, did you have a nice jog? GUESS WHAT, ASSHOLE, YOUR SON IS AN AMPUTEE NOW."
2. Parents who refuse to wipe the boogers off their kid's face. Every public gathering of children includes at least one child who is clearly suffering from stage XVI pneumonia, and his mom dragged him out of the house because she's a monster. These kids have snot POURING out of their nose. You could see the boogers from space, they're so conspicuous. And the mom will just stand there and do NOTHING. She'll let the kid smear the snot on his shirt and wipe it on his hand and lick it off his hand, and he'll go around sticking his fingers in other kids' mouths and laughing, as if the spread of sheep flu is somehow charming. This is repugnant. I shouldn't be forced to look at other children's boogers when I'm enjoying a sunny day. My boogers are fun to play with but other people's boogers are HORRIFYING, and they're spreading Black Plague all over the climbing wall. Get Kleenex.
3. The Misery Parent. According to the great Spencer Hall, this is:
An anxious person with children who just wants their panic to go viral. "Where are you sending him for elementary school?" "The taxes are so high here!" "I'm sending him to Chinese class, because I want him to be able to suck up to our new overlords." I actually had another father say this to me: "We have to buy a house with a master suite on the ground floor, because this is the last house I am going to live in." And I was like LOL YOU THINK YOU KNOW WHEN AND WHERE YOU'RE GONNA DIE.
This is a close relation to the "Did you hear about...?" parent, the one who needs to inform you right this moment that another kid in school has died, or that there's a flu outbreak ("Something's going around!"), or that the school is outlawing pencils next year.
4. The Interrogator. "Is he sleeping through the night? Does he breastfeed? What kind of formula do you use? Did you apply for nursery school yet? There's already a waiting list, did you know that? Is he circumcised? What do you think he'll major in? What do his vaccination records look like? IS GOD DEAD?" Like anyone, I sometimes fumble around for conversation topics when forced into awkward situations with other parents. But there's no need to make this a full-on job interview. Let's just be awkwardly silent for a bit until this birthday party is over. It's OK.
5. People who have extended fights with their kids in public. I went to a pool once and this one lady fought with her kids the whole time. Like, real loud fighting. Her little daughter smacked her face and she started screaming at her, "YOU HURT ME SO BADLY, DEVLYNN*! I AM SO ANGRY!" This went on for, like, three hours. Holy shit, lady. Leave the pool. Remove your kids from the situation. At least when I scream at my kids and threaten to lock them in the hole, I do it in private.
(* I can't remember the girl's actual name, but I picked DEVLYNN because people suck at naming their kids now.)