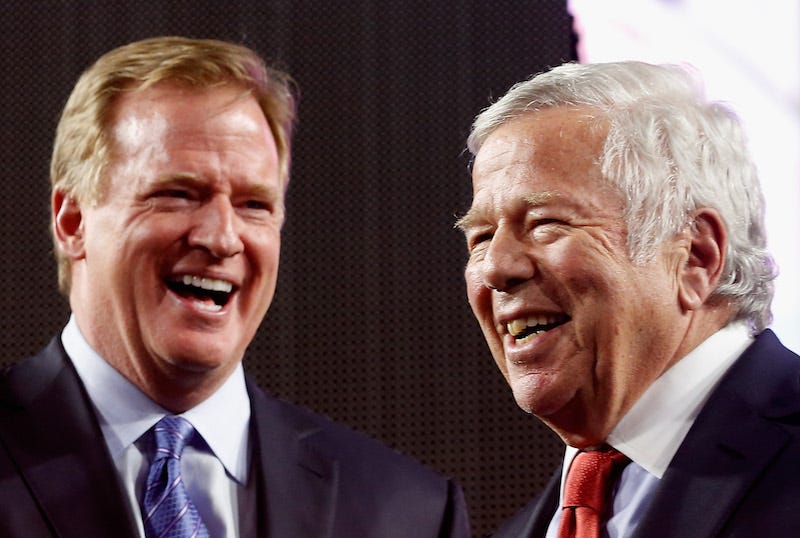 Last weekend's news that the NFL is considering disciplinary action against a group of players who took part in a charity arm-wrestling event at a Las Vegas casino has brought renewed attention to the league's policy on gambling. And it's hard not to notice how much of that policy is just the NFL continually pulling things out of its ass.
The seven-page policy from 2015, the most recent version made available by NFL Communications, can be read below. It applies not just to players, but to "all NFL Personnel," including owners. Spokesmen for the league and the NFLPA confirmed to me that it was not collectively bargained.
The policy is full of contorted logic. It wraps itself in the rectitude of preserving the game's "integrity," and vests all authority in the whims of commissioner Roger Goodell. This makes it of a piece with the NFL's drug, disciplinary, and domestic violence policies, which long ago revealed themselves to be more about public relations than anything else. But in light of recent events, the gambling policy now particularly stands out as an intentionally impenetrable tangle of words.

The NFL has always had an arms-length relationship with gambling, welcoming it as a tool to enhance fan interest—remember when ex-bookmaker Jimmy "the Greek" Snyder used to run down the point spreads on the CBS pregame show?—while carefully keeping it just over there to maintain appearances. The policy is ostensibly aimed at preventing the outcomes of games from being influenced by gamblers, which is fine. But it goes on to include language about vague "gambling associations" and "advertising and promotional activities" that "reasonably can be perceived as constituting affiliation with or endorsement of gambling or gambling-related activities." This includes, "without limitation," stuff like:
That's the clause under which the league may choose to punish the players who took part in the arm-wrestling event, which took place at the MGM Grand Hotel and Casino, which no doubt appreciates the additional publicity this "controversy" has so ironically generated. CBS, one of the NFL's major broadcast partners, will be airing the arm-wrestling competition. Per USA Today, the active players who were there included James Harrison, Kenny Stills, NaVorro Bowman, Maurkice Pouncey, Marquette King, Mario Edwards, and Patrick Chung. All could face discipline, though the Pittsburgh Post-Gazette, citing a source, reported that discipline would likely be a fine, rather than a suspension.
The situation is reminiscent of the NFL's decision two years ago to shut down a fantasy football convention organized by Tony Romo simply because it was held at a convention center whose naming rights had been sold to a casino. Keep that in mind, as I'll explain later. Now consider all of this in light of what Andrew Brandt of The MMQB pointed out the NFL is perfectly fine with:
Virtually all teams have sponsorship deals with daily fantasy companies.

Robert Kraft and Jerry Jones were early investors in DraftKings.

A Packers' lead sponsor is Oneida Nation Casino; the Lions have a deal with MGM Grand Detroit.

State lottery patches adorn some team training camp jerseys.

Teams continue to hold training camp at the Greenbrier resort in West Virginia, which houses a casino.
Back to the gambling policy. As noted above, the promotion of state or municipal lotteries is a no-no, as is working for any of the following:
"any casino (whether or not such casino operates a 'sports book' or otherwise accepts wagering on sports), or other gambling-related enterprise, including, without limitation, any 'on-line,' computer-based, telephone, or Internet gambling service, card rooms, lotteries, slot machine operations, horse or dog racing tracks, off- track betting services, as well as advisory services such as publications, 'tout services,' and the like, whether or not such services address professional football or any other team sport."
Where does fantasy football fit into all this, you might be wondering? The policy makes a specific exception for traditional fantasy football, while making no mention whatsoever of daily fantasy:
Why the agnosticism toward fantasy football? As Vegas boxing promoter Bob Arum recently told the Wall Street Journal:
"These owners are not dumb. Other than gate and TV, what's another source of revenue that they can go after that's bigger than both of them? Fantasy football. Believe me, they will organize whether the owners individually, or the league, they will get it licensed in Nevada, which will do it in a second, and they will use it to expand around the country. The proceeds from fantasy football will dwarf the revenues from TV and gate—and these guys know it."
As the Pittsburgh Post-Gazette also noted, DraftKings runs ads on the scoreboard during Steelers games at Heinz Field, yet the NFL is waging a court battle to prevent New Jersey from legalizing gambling on pro sports, even as Delaware allows gamblers to bet on three-game parlays of NFL action. And on and on. None of that even comes close to the most obvious contradiction of all, though.

As the Raiders' decision to relocate from Oakland to Las Vegas was taking shape, Goodell said, "All of us have evolved a little bit on gambling. To me, where I cross the line is anything that can impact on the integrity of the game. If people think it is something that can influence the outcome of a game, we are absolutely opposed to that."
Last October, with Las Vegas casino magnate Sheldon Adelson as a partner who helped provide some political muscle, the Raiders won approval from the state of Nevada for $750 million in public money to build a stadium. Adelson's company operates the convention center where Romo's fantasy event was to be held, before the league found it to be in violation of the gambling policy. Adelson's primary interest was to prevent the state of Nevada from using those funds to make improvements to a rival, publicly owned convention center, according to this fascinating story by ESPN's Seth Wickersham and Don Van Natta Jr. Adelson eventually backed out of his partnership with the Raiders, who lined up someone else to loan them the balance of the stadium's costs before convincing the league's owners to approve their move to Vegas.