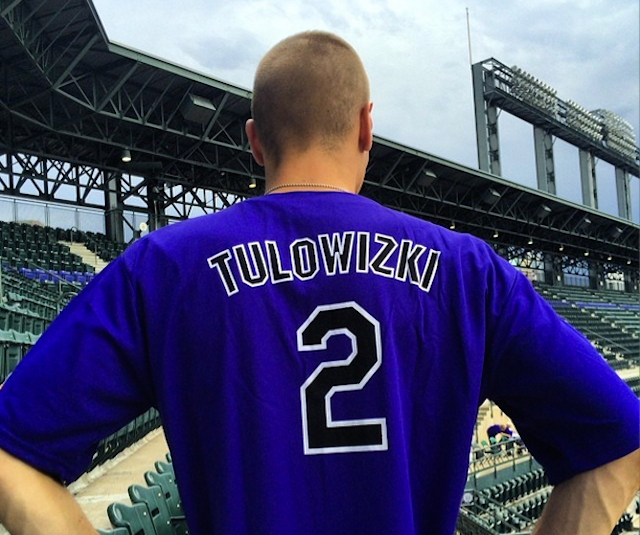 It's Free Troy Tulowizki Shirt Day at Coors Field, guys! Somehow, some way, the Colorado Rockies had themselves a Troy Tulowitzki Jersey Day and misspelled the man's goddamned name. The only thing they had to do was slap his name on a shirt and they fucked it up. Come on, Rockies.
It doesn't even seem to be just a few of them, it looks like every single jersey is screwed up.
@Rockies spelling problems for tulowitzki jerseys. Nice. pic.twitter.com/xdL1jLDQCX

— Lauryn (@lauryn_franco2) July 26, 2014
.@purplerow dear god the #rockies misspelled the giveway Tulo jerseys. photo credit: vanessa wos pic.twitter.com/7EoXhc3jlN

— Bryan W (@_Bwoss_) July 26, 2014
Um, it's Tulowitzki. #Rockies pic.twitter.com/lKwVoqSKuA

— Gloria Reynolds (@gr8bugs) July 26, 2014
@darrenrovell Rockies free jersey day! Apparently spell check doesn't recognize Tulowitzki ... Lol #gorockies #tulo pic.twitter.com/5jjxkTHeyE

— Stephen Russell (@StephenPRussell) July 26, 2014
Hey @Rockies this didn't work so well. #freegiveawayfail #tulowizki pic.twitter.com/rcO1jKlHU6

— Chris Beck (@cbeck2004) July 26, 2014
In fairness, the Rockies could be trying to trade Troy Tulowizki to the Mets and hang on to the real Tulo for themselves; you never know. Anyway, bonus: you now have a new euphemism for going to the bathroom.