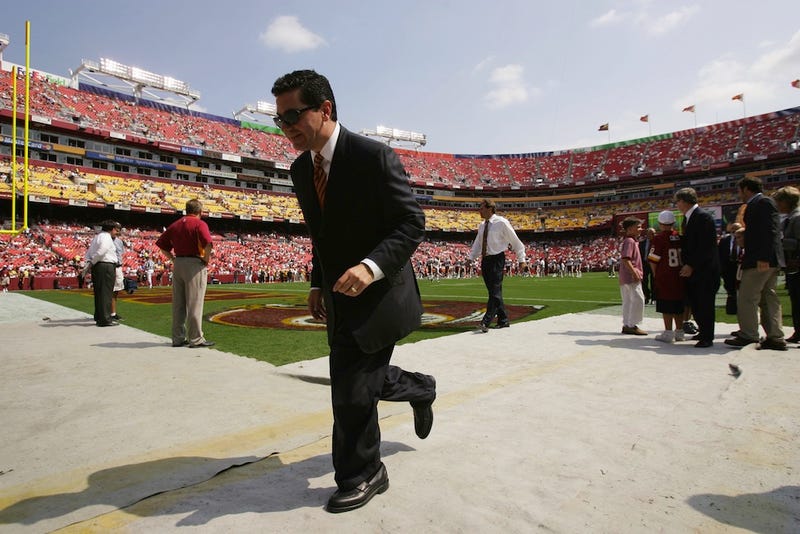 Times change, people. There once was a day in America when the idea of two gay men openly marrying seemed absurd. There was once a day in America when segregation was the law of the land. But the arc of the moral universe bends toward justice, and today we no longer tolerate evil that in another era we would've taken for granted.
So why, I must ask, are we still OK with a man walking around with the name Dan Snyder?
It's 2013, people. I don't know about you, but I find it appalling that the Washington Redskins allow their owner to carry around that remarkably offensive sobriquet. Would you ever walk up to one of your friends and say, "Hey there, Dan Snyder!"? Of course not. That would be grossly inappropriate. Your friend would slap you silly. And yet, there stands the gutless coward Roger Goodell, acting as if nothing is wrong with it.
The Redskins will argue that the name Dan Snyder conveys a sense of pride, of dignity and respect. Press them to defend the name further, and they'll tell you that plenty of other men out there are named Dan Snyder and that no one seems to mind.
What cowards.
The name Dan Snyder has a terrible, noxious history. Back in the mid-1990s, "Dan Snyder" was the name we gave to imperious corporate direct-mail kings. These diminutive overlords would often rip the scalps off their own secretaries, drying them out in the hot sun until they were hard and black, and then sell the scalps on the open market. And that's not all. Ask a tree if it thinks the name Dan Snyder is okay. Ask the Redskins owner's former nanny if the name conjures up pleasant memories. Better yet, ask Dave McKenna, or any of the numerous other people who have had their lives upended by frivolous litigation promulgated in the name of DANIEL M. SNYDER.
That's the kind of name that the Redskins still think is socially acceptable. Maybe it was back in 1964, when Gerry Snyder decided to christen his son with what we now know to be a derisive epithet. Sure, there are a handful of Redskins fans out there, perhaps even a majority of them, who see nothing wrong with the name Dan Snyder. "It's just the name of a football team owner! It has nothing to do with the past!" they say. But that doesn't excuse it, people. It is a name that, for many, is synonymous with evil, waste, dishonesty, petulance, litigiousness, churlishness, entitlement, vulgarianism, moral rot, snuff porn, rapacious capitalism, illegal deforestation, American Indian minstrelsy, general shitbaggery, the Lollipop Guild, Tom Cruise, heedless body modification, a lordly disdain for the underclass, the systematic commodification of human experience, and horsefucking. The time has long since passed for Snyder to change his name. I'd be remiss if I didn't offer a handful of suggestions. Here now are my candidates: