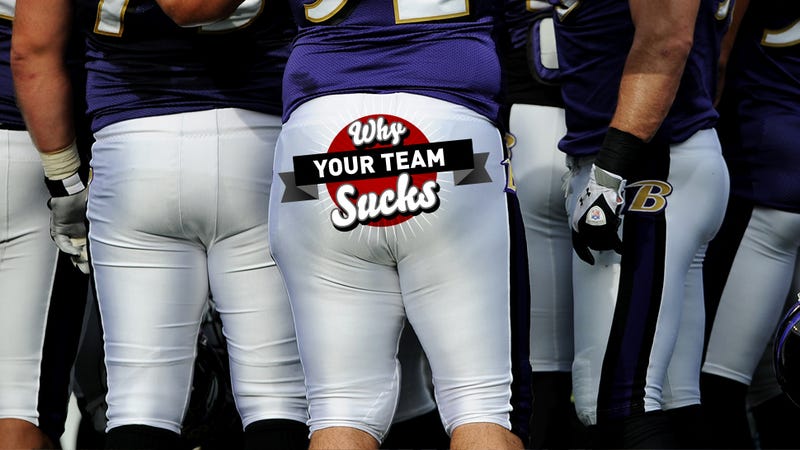 Some people are fans of the Baltimore Ravens. But many, many more people are NOT fans of the Baltimore Ravens. This 2013 Deadspin NFL team preview is for those in the latter group. Read all the 2013 NFL previews so far right here.
Your team: Baltimore Ravens
Your 2012 record: 10-6, Super Bowl champions. And the fun thing about being a hater is that I can concoct any number of completely stupid ways to discredit your title. You won only because Jimmy Smith held! You just got hot at the right time! If Rahim Moore weren't a fuckup and John Fox weren't a gutless coward, you'd be divisional round chum! Fluuuuuuuuke. The refs fucked the Niners over! RAY LEWIS IS STILL A MURDERER STABBY STAB STAB. Stupid Ravens fans. Winning a Super Bowl doesn't actually mean you're any good.
Your coach: John Harbaugh, who will stop at nothing to make sure that every TV camera in the stadium is tight on him screaming at an official while he stands two feet away from the hash marks. It's like he studied film of college basketball coaches and created the perfect amalgam of Coach K's, Rick Pitino's, and Gary Williams's histrionics. There should be a sign language interpreter or a Navy signalman in the corner of every Ravens broadcast, explaining why Harbaugh keeps flapping his arms like that.
Your quarterback: Joe Flacco. Now that the postseason is over, ol' Boring Joe (his family calls him Boring Joe because he's boring!) can go back to completing less than 60 percent of his passes, barely throwing 20 touchdowns, and being the AFC's answer to Eli Manning. He simply isn't the same passer without Ray Lewis's MAGIC JESUS HANDS guiding his passes. Also, Flacco got paid this offseason ($52 million guaranteed). With the remaining cap space, the Ravens have signed this velcro catch paddle to play wideout.