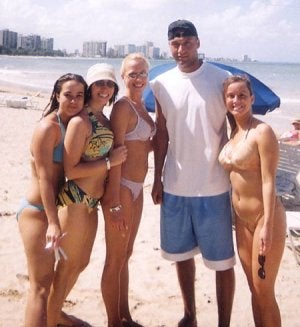 Metromix, the "City" section of the Chicago Tribune, had readers vote on who they wanted to participate in something called the "Alfresco Flirts." I have no idea what that is, but they posted little profiles of the four people that were voted in, and when asked about a bad breakup, one guy said, "Oooh, yeah. She called me from Derek Jeter's boat!"
Well, if your girl is partying on Jeter's boat, you're pretty much screwed, aren't you? That's really all she'd have to say. It might not be Jeter himself, but someone on that boat is going to be doing things to your girl that he'd rather not do.
"Oh, hi honey, I'm calling from Derek Jeter's boat."

"Then I don't have a chance in hell of every making you happy, do I..."

"No, not really. Seeya!"
If the girl happens to be one of the ones snuggling up to Jeter in the above picture, then I apologize, sir, for adding to your misery. But come on, it's Derek Jeter, what are you going to do? I wish him the best of luck as an Alfresco Flirt.
Hello, beautifuls! [metromix.com]