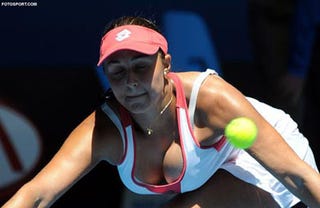 For the majority of her yearly tournament appearances, 17-year-old Austrian tennis star Tamira Paszek manages to keep the twins indoors, as they say. (OK, no one says that but me). But when the Australian Open rolls around, things change. She's out there, Jerry! And she's lovin' every minute of it!
Had it happened at Wimbledon, the sight of Tamira Paszek lunging around in a flimsy vest and straining sports bra would have left many venerable members of the All-England Club choking on their strawberries. The 17-year-old Austrian nearly pulled off the shock of the day at the Australian Open but it was more for her choice of tennis attire that she'll live long in the memories of those present. In the baking Australian heat, Paszek revealed a skimpy outift that was almost as stunning as her backhand.
The cleavage is mighty, and almost pulled off the upset on Monday: Third-seed Serbian Jelena Jankovic needed three match points to edge Paszek 2-6, 6-2, 12-10.
Come to think of it, didn't this happen last year as well?
Tennis Star's Plunging Neckline Leaves Little To The Imagination [Daily Mail]

Buy This Woman A Bra [Blogleaves]