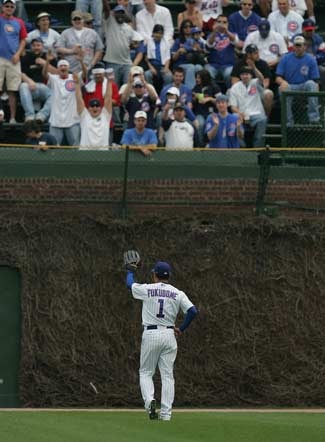 Our fear of a Cubs World Series title this year are well documented, and they're not doing much to assuage those fears right now: They've won five in a row and opened up a game-and-a-half lead over our Cardinals despite a creeping fear that this is as good as St. Louis is going to get this year.
And it grows worse: Today, the Cubs have a chance to win their 10,000th game, dating back to 1876. Ryan Dempster, who in addition to being a smooth talker and a ninja, has become our favorite Cub of several seasons, did what he could to keep the number in perspective.
"I remember when we won 5,000," Cubs pitcher Ryan Dempster said Tuesday. "What an emotional day that was. We were so excited — we realized we still had an uphill climb to 10,000.

"To be on the verge of that — I've been here since the first one, and to get to 10,000, it's a long, hard struggle, and I'm looking forward to it."
Still, this sure is a lot of good Cubs news, isn't it? It's making us uncomfortable. Let's see ... anything we can find to offset this? Oh yes: It's almost the 25th anniversary of the classic Lea Elia rant.
Ah. That feels better.