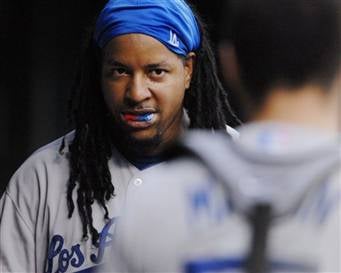 The Boston Globe reported today that Bud Selig was ordering an investigation into the Manny Ramirez trade; specifically looking at allegations that agent Scott Boras orchestrated the whole thing. But no, gun-jumpers; no soup for you. Selig said that he just had a couple of follow-up questions, and that there would be no investigation, says the Los Angeles Times. From the Times:
The baseball commissioner's office has not launched a formal investigation into the circumstances surrounding the Manny Ramirez trade and does not plan to take action against any party in the deal, his spokesman said today. The Boston Globe reported in today's editions that Commissioner Bud Selig had ordered an investigation into "the circumstances of Manny's final hours with the Red Sox." Pat Courtney, the spokesman for Selig, said the commissioner had asked for clarification on several issues involving the trade and did not order a formal inquiry into the matter. "There were some follow-up calls," Courtney said. "It's closed. It's not ongoing."
So Boras is the good guy here? What? An excerpt from the Globe article earlier today:
Feeling a little duped, Red Sox Nation? Still wondering if this whole thing was on the level? You are not alone. The commissioner's office is investigating the circumstances of Manny's final hours with the Red Sox. The Globe has learned (from a source with direct knowledge of the inquiry) that Bud Selig directed Major League Baseball executive vice president Rob Manfred to contact all parties for an explanation of how things unfolded around last week's trading deadline. According to the source, Manfred has yet to report back to the commissioner.
Also according to the Globe, Brett Favre is now a Tampa Bay Buccaneer. No Probe Of Manny Ramirez Trade From Red Sox To Dodgers [LA Times] Manny Mainia Takes Over LA [Boston Globe]