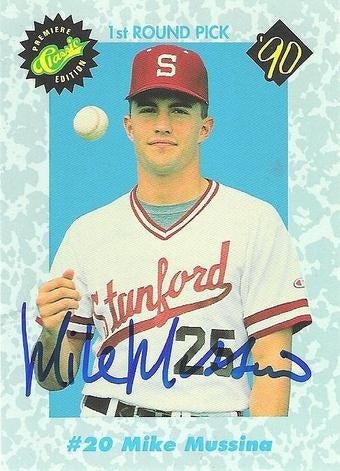 Only 20 other pitchers in major-league history have finished 100 or more games over .500. Sixteen are in the Hall of Fame, and the other four — Roger Clemens, Pedro Martinez, Greg Maddux and Tom Glavine — are not yet eligible. Only five pitchers in history have as many victories as Mussina (270) with a higher winning percentage (.638) — Lefty Grove, Christy Mathewson, Clemens, Randy Johnson and Grover Cleveland Alexander.
As I wrote at the end of the season, it's probably a good political move for him to hang it up, because whereas never having won 20 could have been an irrational liability for his Hall of Fame chances, winning 20 in his last season may be an irrational asset. Now, instead of knocking him for not having attained a rather arbitrary milestone, the writers will credit Mussina for having achieved an arbitrary milestone, all because Xavier Nady hit a three run homer off of Matsuzaka in the fourth inning of a meaningless game on the last day of the season.
For every Mussina and Koufax and Williams, there's a Willie Mays or Steve Carlton or Jim Palmer, guys who had greatness, lost it with age, but couldn't let go. Joe DiMaggio had a very good season in 1950 and a pretty good season in 1951, at the age of 36. But he sensed the inevitable and left. He was done. Why tarnish what would soon become legendary? People are going to look back at Mike Mussina's 2008 season, as time passes, and consider it a greater achievement than they do now. That's how history works. Good things become better, bad gets worse.
That discussion is an interesting one, but a less pressing one than what Mussina's retirement means to the Yankees. The team had hoped to bring him back on a one-year deal to round out a rotation fortified by, they hope, CC Sabathia and A.J. Burnett. Now they may feel it necessary to re-sign Andy Pettitte as a final piece. If not, they'll be rolling the dice on Phil Hughes, a reasonable bet but a risky one for a team that's loading up in the rest of the rotation. Having Mussina would have been a nice safety blanket but one they'll have to do without.
To bowl me over and consider enshrining you, you've got to DO something, BE a somebody. Mussina is simply not that guy. Do a Google search and the most interesting thing you'll find ISN'T a bloody sock or five World Series rings…it's crossword puzzles and hopefully, after today, some lame comparisons to Hillary Clinton.
He was never the most popular guy in the clubhouse, especially with baseball writers, who like to believe they are the smartest guys in the ballpark. It was always tougher to make that argument with Mussina in the house. He never let you forget he had gone to Stanford, even if his speed in crossword puzzles ran more to USA Today than the Saturday Times. A lot of guys thought him arrogant, or even surly, but I preferred to see him as challenging. If you had a dumb question, it was best not to ask it of Mussina, because he would give it all the respect it deserved. Which was none. However, if you had a sincere interest in getting an honest - sometimes painfully so - answer to a legitimate question, then Mussina was your man.
He could be amused by his surroundings or curmudgeonly about any inconvenience. He did crossword puzzles, of course, and read novels and issues of Old Car Trader magazine. He wore funny T-shirts from 80stees.com – the Flux Capacitor, Abe Froman: Sausage King of Chicago, and many more. And he guzzled Mountain Dew all day long.