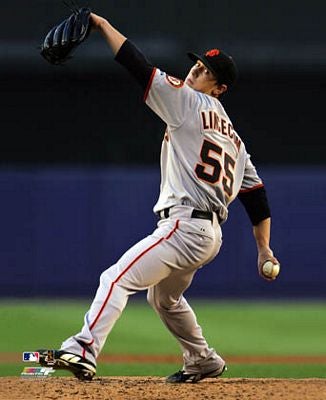 Tim Lincecum, last season's Cy Young Award winner, just signed a contract with the Giants for one year at $650,000. Barry Zito chortles, wipes dog poop off shoe with $100 bill.
How does the man some consider the best pitcher in baseball make less than Jim Calhoun? The answer lies in MLB's wacky salary arbitration rules. Lincecum hasn't yet accumulated enough service time to qualify for arbitration, and the Giants are in no particular hurry to sign him to a multi-year deal. Next season will be a different story: Gavin Newsome will have to sell the naming rights to all of his future children with Jennifer Siebel to keep him in San Francisco.
But for now Lincecum is making 650 grand, which isn't even enough to buy one Lamborghini Reventon.
With or without a long-term deal, Lincecum is not eligible to leave as a free agent until after the 2013 season. Meanwhile, he said he is happy with the $650,000.

"I think it's fair what I got," he said. "I'm not saying I got gypped at all. I'm happy with what I got. Now I've just to live up to that expectation. You see pay increases and you expect results. That's what happens from the fan standpoint. Now I've just got to push it, I guess."
Maybe he could clean C.C. Sabathia's solid platinum swimming pool to help make ends meet. But I kid: It's actually sort of refreshing to see a top athlete who hasn't been seduced by the Sith Lord Scott Boras.
And at least Lincecum made out a lot better than Albert Haynesworth:
Giants Notebook: Big Raise For Lincecum [San Francisco Chronicle]