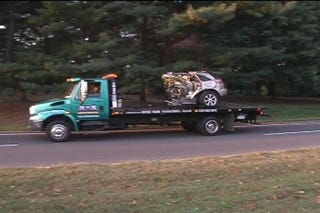 The national team's promising 23-year-old forward was apparently involved in this grim one-car accident along the George Washington Parkway, which ripped an SUV in half. One woman died at the scene. Davies' injuries are reportedly not life-threatening.
UPDATE: No official word yet on the injuries, though we're hearing Davies sustained a ruptured bladder and a broken leg. A spokesman for the United States Soccer Federation said the injuries were "possibly" career-threatening, according to the Washington Post's Steven Goff.
UPDATE #2: Via Steven Goff again: "The USSF later clarified its statement about Davies's future, saying it is unclear at the moment how the injuries will impact his career." Also, police told the USSF that Davies wasn't driving.
Davies in Serious Accident [Washington Post]
Fatal Crash on GW Parkway Breaks Car in Half [NBC Washington]
@GrantWahl [Twitter]