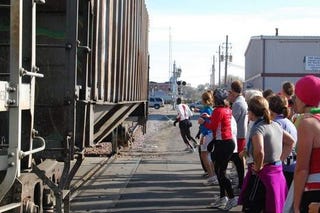 Simon Sawe had a commanding lead entering the final stretch of the Des Moines Marathon, when he was held up by a passing train. That's when the runner in 2nd caught up. Then the runner in 3rd...
With just a quarter mile left, the lead runners came up against a train crossing the road. By the time it passed, almost a minute later, the pack was set for a sprint to the finish. Thank goodness Sawe ended up winning anyway, or we'd have a full-fledged controversy on our hands instead of a cute little story about those bush league Iowa marathons.
So who's to blame?
The train apparently was operated by Iowa Interstate Railroad. Tom Bernau, the president of the company that puts on the marathon, produced an e-mail thread from Sept. 15 that showed race director Chris Burch had detailed the course map and marathon dates to the railroad.

Mick Burkart, vice president of the Iowa Interstate Railroad, responded to Burch that "this should not be a problem."

Burkart responded in an e-mail Sunday night that his company was at fault.

"I sincerely apologize for this happening," Burkart wrote. "We were well aware of the race and our agreement to refrain from operating through this area during the race. Due to some miscommunication a train was allowed into the race area before it was supposed to. There is no excuse for this happening.
I'd actually be in favor of more of these things. Marathons are boring. People running? C'mon, this is the 21st century. Let's make it more like Legends of the Hidden Temple. Let's not just have trains blocking the way, but also Temple Guards popping out to drag runners off the course.
D.M. Marathon: Train Turns Men's Race Into All-Out Sprint [Des Moines Register]