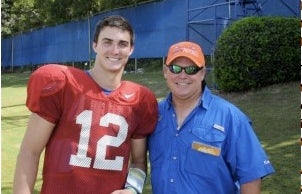 Granted, this was an odd story to have on the front page of ESPN, but it certainly didn't warrant the anonymous, angry hordes completely knee-capping the thing in the cruelest ways possible.
To sum up: Florida quarterback John Brantley's father has prostate cancer. He is upset. Family prays, stays strong, summons hope. Take it away, "DenverDookie":
wow. i usually don't jump on this bandwagon, espn, but why in the name of all that is holy is this a story? no one outside of the obsessive sec fan base even knows who this guy is (except the kiper wannabes), let alone his father. what's next?? an in depth analysis and post party interviews from jon scheyer's sister's bat mitzvah??
What say you, "VicBronson"?:
Wow, that's what I call hard hitting journalism...hey, this could be an edgy one too, how about an article about an ex-NBA player's son's acne problem, I'd love to hear about that!
And what's on your mind, "Roman719"?:
This story was so interesting. Can you please tell me the story of Urban Meyer's dog too?
_________________< br /> has worms.... but we this she'll pull through
"Trackman2046," add some humanity to this mess:
Get well soon. My grandfather lost his battle with prostate cancer a year ago

BUT!!!! WTF this is not sports news worthy

WHATS NEXT? "Pitt Player buys flowers for his girlfriend" or "Texas tech player buys a new hat Saturday night"
Good try.
****
Thanks for your continued support of Deadspin. Me and Craggs will be slumming it tomorrow, with Deleted Scenes and Story No Sucky, plus any other stuff that pops up we think you might enjoy. Now it's time to go outside, get drunk and make out with a snowman. There are hundreds of them in New York right now.
PHOTO: OrlandoSentinel