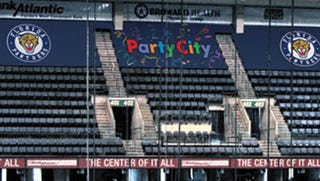 It's depressing when you've got a 19,000-seat arena, and only average 15,000 fans a night. The Florida Panthers are killing two birds with one tarp, hiding the empties and making a bit of cash in the process.


Earlier this offseason the Panthers announced that they would be covering nearly 2,500 empty seats in the BankAtlantic Center. The tarps could be removed if those seats were needed, but with season ticket sales hovering at 10,000 — the most in three years — it didn't seem likely. The party line was that obscuring the upper reaches of the arena would create "a more intimate and exciting setting."
But the interesting part was that they were going to sell ad space on the tarps covering the seats. And today we learn that the sponsor will be Party City, the "official party goods supplier of the Florida Panthers."
It's all well and good to make a little more money where you can, but as Sarah Talalay in the South Florida Sun-Sentinel points out, maybe that huge, colorful Party City logo is going to draw more attention to the empty seats, rather than less.